Brazil's prosecutor-general formally accuses President Temer of corruption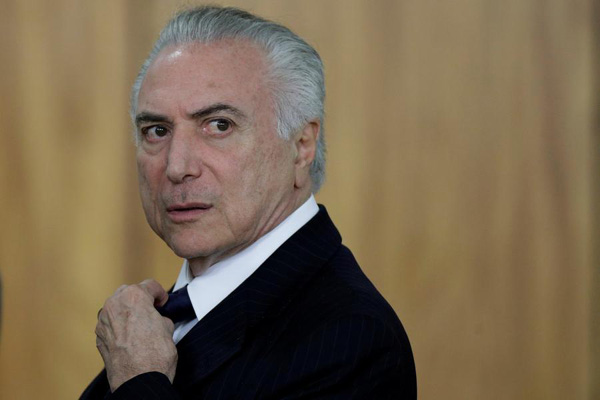 Brazilian President Michel Temer looks on during a credentials presentation ceremony for several new top diplomats at Planalto Palace in Brasilia, Brazil June 26, 2017. [Photo/Agencies]
BRASILIA - Brazil's President Michel Temer was formally accused of corruption on Monday by prosecutor-general Rodrigo Janot to the Supreme Court (STF).
This accusation was made in a statement sent by Janot to the court to reinforce the need to jail Rodrigo Rocha Loures, a former lawmaker and close advisor to Temer.
Rocha Loures was jailed after being filmed receiving a suitcase containing 500,000 reais (about 150,000 US dollars), which were allegedly a bribe for Temer coming from meatpacking company Group J&F boss Joesley Batista.
This document has raised expectations that Janot will formally charge Temer to the STF by a deadline on Tuesday.
"Rodrigo Loures represented the interests of Michel (Temer) in the occasions when he met with representatives of Group J&F. Through him, Temer arranged to receive unfair advantages in exchange for favors in public affairs," wrote Janot.
Janot also concludes that Rocha Loures and Temer clearly worked together to receive bribes.
Temer has been under growing pressure since Batista turned over a tape to investigators, in which Temer can seemingly be heard approving bribes to public officials in exchange for their silence.
However, Temer on Monday said his government couldn't be toppled by the accusation.
"Nothing will destroy us. Not me and not our ministers," Temer said during the ceremonial signing of a bill in the capital of Brasilia.