Albania closes polls, hopes for peaceful outcome to get closer to EU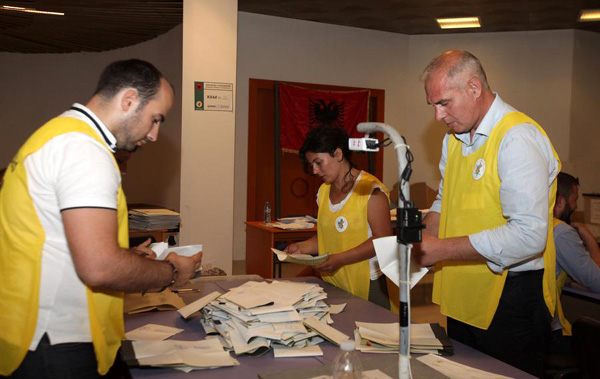 Election officials start counting the votes from the parliamentary elections in Tirana, Albania June 26, 2017. [Photo/Agencies]
TIRANA - Albania voted Sunday for its new parliament which will elect a new government for the next four years.
The parliamentary election is seen as a key for the country to its European Union (EU) membership talks that it has been aspiring since 2014 when it was granted the candidate country status.
For this reason, the elections process here has been under the constant monitoring of the EU bodies which have stressed on their part that the standard of these elections is going to shape Albania's relationship with the EU.
The polling booths opened at 7:00 am local time and were closed at 8:00 pm. The initial deadline for polls closing was 7:00 pm but was postponed by Albania's central elections commission (CEC) due to the low turnout.
Nearly 3 million Albanians were eligible to cast their ballots at 5,362 polling stations across the country but only scant half of them exercised such right.
CEC informed that as of 8:00 pm, 44 percent of eligible voters had cast their ballots, lower turnout than in 2013 general elections.
CEC attributed the low turnout to the heat and celebrations of Eid-al-Fitr.
During the day, the main political leaders, namely the head of ruling Socialist Party Edi Rama, the head of the co-ruling Socialist Movement for Integration Petrit Vasili and the head of oppositions largest party Democratic Party Lulzim Basha appealed to Albanian citizens to massively go to polls and have their say.
Also the head of election body appealed to citizens to report any incident as well as asked the administrators of voting process to act according to the laws and electoral code.
Meanwhile, some 6,000 police officers were on duty for election security, while more 300 international observers came to monitor the vote.
The voting process was considered as quiet and normal despite several incidents reported by local media and police.
The Interior Ministry reported hundreds of attempts to buy votes, a crime that may result in a jail term while media published different photos and video footage of clashes in the polls or vote photographing cases.
Thus despite such incidents, police sources informed that no injured person had to take specialized treatment at hospital while the cases were considered as isolated, thus did not disrupt the voting process.
The preliminary results from the vote are expected early Monday.