15 missing after building collapses in Kenya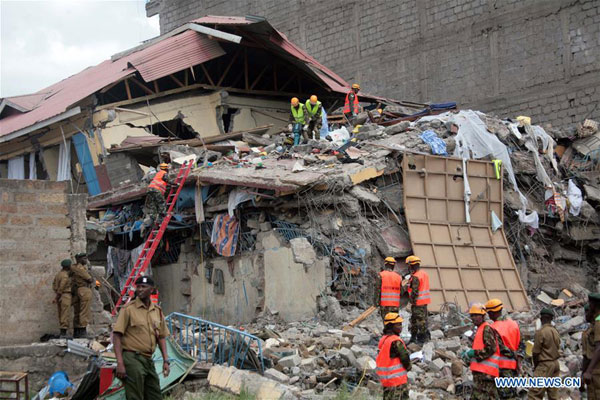 Rescuers work at the debris of a collapsed building in Nairobi, capital of Kenya, June 13, 2017. [Photo/Xinhua]
NAIROBI - Fifteen people are still missing or feared trapped as of Tuesday in debris of a seven-storey residential building that collapsed Nairbi, Kenya, on Monday, police said.
Nairobi police commander Japheth Koome said some 121 people have been accounted for after they were evacuated moments before the building caved in at 10:00 p.m. (1900 GMT) at Kware in east of Nairobi.
Koome said they had taken a roll call of the residents of the building and added there were some people missing.
"The residents say between two to 10 or more people are missing. There could be some who refused to leave when they were being told to evacuate, but we are doing our best to establish the claims," said Koome.
"Most of the families cooperated and evacuated timely, safely. However, it is believed that some people may have been trapped," National Disaster Management Unit (NDMU) Deputy Director and Communication Officer Pius Masai said in a statement.
Masai said rescuers have been searching through the debris to establish if anyone is still trapped in the building.
"We appeal to anyone with cutters, drillers and any other extrication equipment to support search and rescue efforts," he said.
Several emergency providers and heavy excavation machines were sent to the scene hours later to help dig through the rubble and find any survivors.
Police and emergency service providers leading the operation said it would take long to dig through the rubble to confirm the claims.
The police have launched investigations as rescue operations are ongoing. Residents said the ill-fated building had earlier shown imminent signs of collapse.