Chinese visitors to Iceland up by 660 percent
Iceland has seen a huge rise in Chinese arrivals, as a growing number of Chinese travelers seek out "exotic" destinations and new experiences.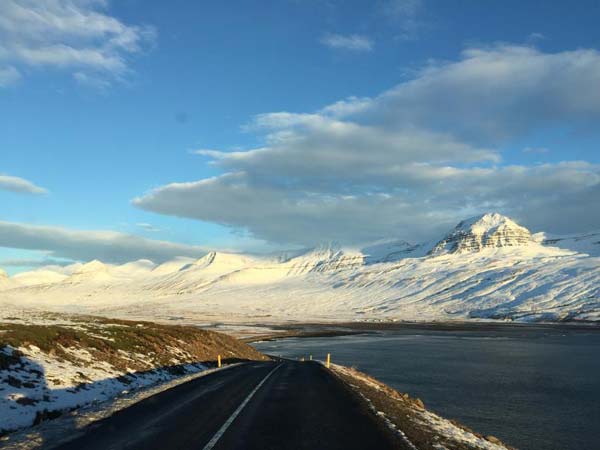 The landscape of Iceland. [Photo provided to chinadaily.com.cn]
There is a dramatic 660 percent surge in Chinese visitors to Iceland in the last five years, amounting to 66,781 in 2016, according to statistics from the Icelandic Tourist Board.
Iceland's Minister of Industry and Commerce Ragnheidur Elin Arnadottir said that Chinese tourists are valuable to Iceland and she would like very much to see an increase of Chinese tourists.
"We have made preparations to increase our marketing efforts in various cities in China to facilitate more tourists coming from China," she said.
Iceland's main airline, Icelandair, has experienced a double-digit growth of Chinese passengers since 2012, said Arsaell Hardarson, Icelandair's regional manager of Asia, Africa, Middle East & South America. The main reason can be attributed to the extensive sales and marketing efforts made over the last decade, he added.
"We expect this trend to continue and even be stronger when there will be direct flights between Iceland and China," Hardarson said, adding the first direct flight is expected to be launched as soon as in 2018. However, he did not reveal when Icelandair will start direct flights between the two nations.
China has long remained the power engine for world tourism and the number of China's outbound tourists reached 122 million in 2016, up by 4.3 percent compared to 2015, which had 117 million outbound tourists, according to the China National Tourism Administration.
Total consumption by Chinese travellers overseas reached $109.8 billion and $900 per person on average last year, accounting for 16 percent of the country's total tourism consumption.
At a time when the list of potential holiday destinations is increasing in the minds of Chinese tourists, travel pundits say uniqueness and closeness to nature are the key selling points of Iceland.
Denni Karlsson, the owner of Wilderness Center in East Iceland, said what most attracts Chinese travelers to Iceland is the ease at which visitors can get close to nature and experience its magical power.
Referring to Iceland's efforts in coping with an increase in tourists from China, Karlsson admits that the main thing the country should do is to steer more foreign visitors to sites around the country, and not too much around the Reykjavik area, since some of the attractions cannot handle many more guests.
However, he said, "A big part of Iceland is that it still has not got that many tourists, so this could be solved. Every guest could get a unique experience and feel the peace and magic of nature, as well as getting a real taste of local authentic culture, food and history."
Explaining what East Iceland could offer, Karlsson said, many people in the travel industry in that region are connected to art and culture and they are willing to work hard to help travelers' experience its unique flavor.
As the most extensive wilderness in North Europe is located in the area, tourists have great opportunities to see all the fjords and small villages and big mountains, he said.
Noting the capacity related issues in the peak summer season that might slow growth in the coming years, Anders Kristensen, China head of Albatros Travel, which specializes in polar and adventure travel, said the key to solve this is to extend the visit outside of the summer holiday season.
"If Chinese and Icelandic travel providers figure out a way to make Iceland interesting the whole year, I am sure the numbers will start growing," Kristensen said.
Li Ranzi, who has travelled to more than 30 countries and just had a 10-day holiday with her husband in Iceland, said ice, snow, winter activities and northern lights drew her to visit the country.
Li said what she enjoyed the most during her visit in Iceland were the special activities, which include climbing a glacier, caving, riding Icelandic horses and diving.
"Iceland is unique place and people should visit there at least once in a lifetime," she added.