Bike-share companies ride into the British high street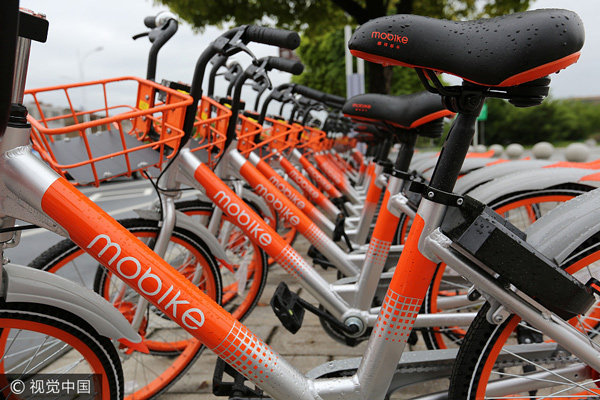 Shared bikes park at a recommended site in Xiangyang, Central China's Hubei province, June 10, 2017. [Photo/VCG]
One of China's largest "dockless" bike-sharing companies is following in the tire tracks of some of its Chinese rivals and entering the British market.
Beijing-based Mobike plans to officially launch its service in Greater Manchester. It will be Mobike's first venture into Europe.
Mobike, which operates 5 million bikes in China and is backed by Foxconn and internet giant Tencent, will roll out 1,000 bikes at the end of June for a six-month pilot. After the scheme is up and running, the company will consider future expansion.
Mobike is joining Ofo, which set up shop in Cambridge in April, in competing for market share outside China.
Bike-sharing in China has taken off quickly, especially this year.
Companies including Ofo, Coolqi, and Bluegogo International are competing for customers by offering bikes for rent that have extra features, such as power banks that allow customers to charge their smartphones, and unusual paint jobs, such as a garish gold-colored bike.
Ofo was founded in 2014 and is valued at $1 billion after receiving $450 million in investment during February. It unveiled the Ofo Princess bicycle last week that is aimed at women and has a rattan front basket and an improved chain guard and rounded design aimed at preventing the snagging of clothing. The company claims to have 20 million registered users.
Coolqi's gold color bike, meanwhile, has split opinion among the online community.
"It can't be any uglier," one commenter said.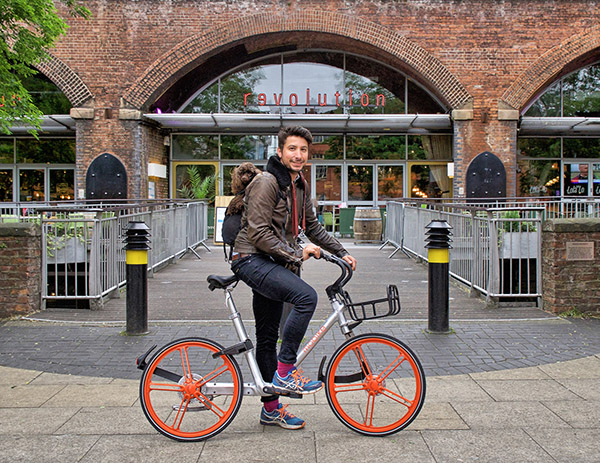 A cyclist tries bike-sharing company Mobike's new orange bike in Manchester. [Photo/provided to chinadaily.com.cn]
But the paint job did not bother others, even though the bicycle is, by comparison, pricey. It requires a 298 yuan($44) deposit, while many other rental bikes call for deposits of 99 to 199 yuan. The gold bike costs 3 yuan per hour to rent while most rental bikes can be secured for 2 yuan or less.
"Since it has a smartphone holder, I can navigate while cycling and that's cool," said one commenter who used the online name Sunshine Ziqing."Of course, I will be forever blinking at the dazzling golden color."
There also was concern about the ability of the bike's battery to recharge mobile phones. It is recharged by solar power.
"I just wonder what will happen when it rains and those batteries get wet," said a Weibo user using the online name Energy from Balabala.
In Manchester, Mobike's launch was welcomed by both city councils and by Transport for Greater Manchester.
Andy Burnham, the mayor of Greater Manchester, said he hopes many people will swap their cars for bikes. He vowed to take a positive approach in promoting cycling in the region.
"We're conscious that our city center is a complex and busy area already," Burnham said."Transport for Greater Manchester has been working hard to establish a voluntary code of working with Mobike to make sure the service operates in a way that doesn't inconvenience other road users, pedestrians or city center traders."
Users of the cycle hire scheme will have to download an app that allows riders to unlock an available GPS-enabled bike by scanning a QR code on the bicycle.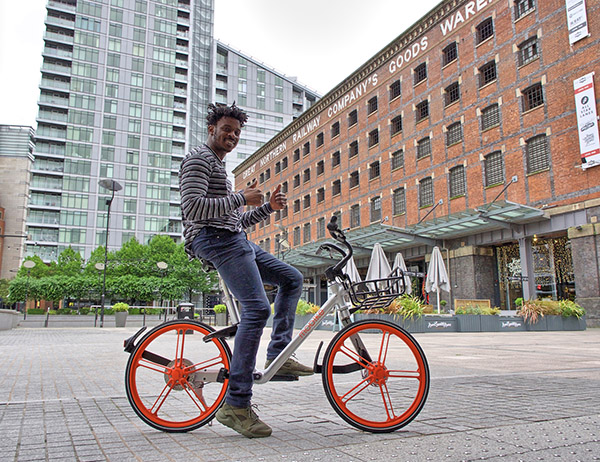 Users will be charged for every 30 minute slot they have them, but details of the pricing structure for Manchester have not yet been released.[Photo/provided to chinadaily.com.cn]
After finishing their trip, the cyclist will manually lock the bike and leave it in an authorized parking location. This means users do not need to return them to specific docking stations.
People using the bikes will be charged for every 30 minute slot they have them, but details of the pricing structure for Manchester have not yet been released.
"If successful, it could play an important part of our longterm plans for cycling in the region and for making travel easier and more sustainable," Burnham said.
Hu Weiwei, founder of Mobike, said: "We're very excited to make Manchester and Salford Mobike's first European partners. They have long been a European leader in culture, innovation and technology and were carefully selected as promising and highly-suited Mobike cities."
The company said it will "provide its affordable, environmentally friendly and socially beneficial service to a series of European cities over the next few months".
Mobike and Ofo rental bikes will be available at no cost to the taxpayer, unlike those championed by former London mayor Boris Johnson, the so-called "Boris bikes", that are partially funded by Transport for London.
Mobike launched in April 2016 and has since rolled out schemes in China and Singapore. Greater Manchester is now the 100th city to host the service.
Jing Shuiyu and Cheng Yu in Beijing contributed to this story.
Contact the writers at boleung@mail.chinadailyuk.com