China and Panama establish diplomatic relations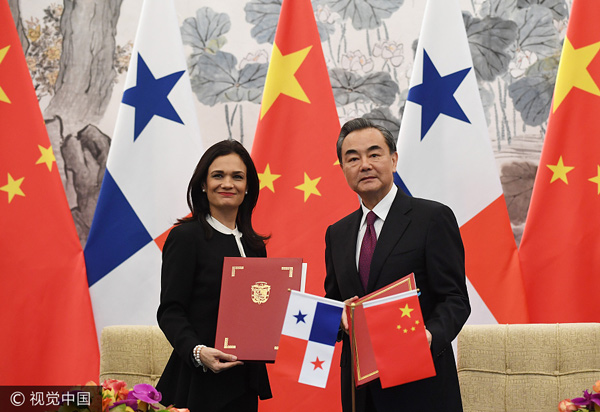 Panama's Vice-President and Foreign Minister Isabel de Saint Malo, left, and Chinese Foreign Minister Wang Yi pose with their documents after signing a joint communique on establishing diplomatic relations during a press briefing in Beijing, June 13, 2017. [Photo/VCG]
China and Panama decided to establish formal relations on Tuesday, according to a joint statement released after a meeting between their foreign ministers in Beijing.
The People's Republic of China and the Republic of Panama, in accordance with the interests and willingness of their people, decided to recognize each other and establish ambassadorial level diplomatic relations from the signing of the statement, it said.
According to the statement, the Panama government admits that there is only one China, the government of the PRC is the only legitimate government that represents China, and Taiwan is an integral part of Chinese territories.
The Panama government also broke its "diplomatic ties" with Taiwan, and promised that it will never establish any official relations with it, nor conduct any official contact.
The Chinese government commended the government of Panama for its above-mentioned position.
Foreign Minister Wang Yi and his Panamanian counterpart Isabel de Saint Malo, who is also Panama's vice-president, met the media on Tuesday in Beijing after their meeting.
"This is a historic moment, and the China-Panama relationship has opened a new chapter," Wang said.
Hailing the establishment of ties as an important political decision made by the Panama government, Wang said it fully conforms to the fundamental interests of both Panama and its people.
"The Chinese government and people highly appreciate and welcome it," he said.
After the two ministers' "cordial and fruitful" meeting, Wang said both sides agreed that the one China policy is the fundamental precondition and political foundation for the two countries to establish ties and develop their relationship.
Both sides will make full use of their complementary advantages and conduct cooperation in various areas including trade, investment, maritime affairs, culture and education as well as tourism.
"China welcomes Panama to actively participate in the Belt and Road construction," Wang added.