China's initiative offers opportunities to small economies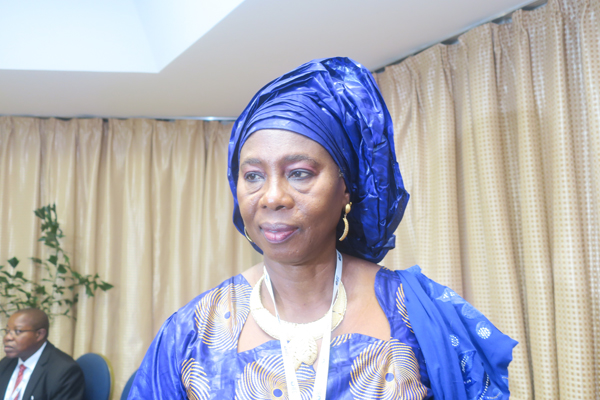 Isatou Touray, minister of Trade, Regional Integration, Economic Affairs and Employment of The Gambia, believes that the Belt & Road Initiative will be open and inclusive to emerging democracies like her country. [Photo by Lucy Morangi/chinadaily.com.cn]
Abuja, Nigeria - The Belt and Road Initiative can offer new trade opportunities for emerging democracies like The Gambia. The Minister of Trade, Regional Integration, Economic Affairs and Employment Isatou Touray believes that the ambitious initiative will be open and inclusive, thus offering trade practices for the small western African country to emulate which in turn will help fast track its economic ambitions. "The Gambia is an emerging democracy and we need linkages with other established economies to support our efforts in building a sustainable economy," she said.
She revealed that the country is working to strengthen its institutions. "We are in the process of ratifying many international trading treaties such as those governed by the World Trade Organization. What the initiative offers however is an opportunity to commence trading with other regions," said the minister at the sidelines of an infrastructure summit organized by Africa Finance Corporation in Abuja, Nigeria.
Touray said her country is looking forward to deepening bilateral relations with China. "Quite a number of Chinese firms are currently engaging with the new administration and we are moving in the right direction. We hope through the initiative, that The Gambia will have an opportunity to learn and gain while China identifies investment opportunities. It should be a win-win situation."
According to the minister, The Gambia is also looking forward to increasing Chinese direct investments. "We are developing policies and regulations that are attractive to foreign investors. We want to engage constructively and have already signed regional trade treaties. We have resumed discussions on international agreements such as the African Growth and Opportunity Act (AGOA), a United States Trade Act, and we hope this will be a plus to Chinese investors."
China and The Gambia have enjoyed strong diplomatic ties for more than four decades. The minister explained that the country has benefited from China's assistance in health and agriculture due to its comparative advantages.
She revealed that the energy sector is a key priority on their development agenda. "If you want to attract investors, you must have reliable energy to power industries. To achieve industrialization, we have to build the right foundation and protect foreign investments. We are also developing policies that would be attractive to private investments and startups because they are the economic drivers."
The two-day summit brought together infrastructure financiers and developers to discuss innovative financing strategies as the continent pushes forward ambitions to expand its infrastructural network.