Kenyan leader sees major shift for Africa's rise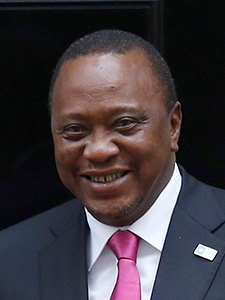 Uhuru Kenyatta, Kenyan president
China and Kenya should push forward the creation of industrial and economic corridors, with a focus on railways, seaports and special economic zones, President Xi Jinping said on Monday.
Xi made the remark in a meeting with Kenyan President Uhuru Kenyatta, who attended the Belt and Road Forum for International Cooperation on Sunday and Monday.
Xi called on the two countries to work together to build the Mombasa-Nairobi railway, Mombasa seaport, and Mombasa special economic zone.
The two countries should continue to respect each other's core interests and major concerns, Xi said.
China and Kenya have reached consensus in a number of key areas, and many of those have begun to be implemented, Xi said, adding that the Kenya relationship is playing a leading role in China's cooperation with Africa.
Xi said that Kenyatta's participation in the forum has great significance, as Kenya is not only an influential country in Africa but happens to be located on the ancient maritime Silk Road trade route.
During the talks, Xi proposed to upgrade the Chin-Kenya bilateral relationship to a comprehensive strategic partnership.
Saying that the forum marks "a historic moment", Kenyatta congratulated Xi on his vision in proposing the Belt and Road Initiative.
"It's truly the first time, I believe, that we have had leaders from South-South and North-South," he said, referring to cooperation between developing countries (which are located largely in the Southern Hemisphere) and developed countries (mainly located in the north).
"And all of us are talking the same language - the language of prosperity and mutual success," he said.
"Indeed, the initiative, Mr President, is not limited by geography. We see it as an opportunity to finally change Africa's position and become the new frontier for growth of the global economy," Kenyatta told Xi. "It reflects China's quest for shared prosperity."
Kenya is engaging with the ancient maritime Silk Road as China establishes trade links with the East African coast, Kenyatta said, adding that building economic blocs in Africa fits well with the development strategies of local communities.
"Hopefully, as we go forward, we will be able to continue with this initiative and actually see the fruits of the work that you have started today," Kenyatta said.