Upcoming Syria peace talks to be short, business-like: UN Envoy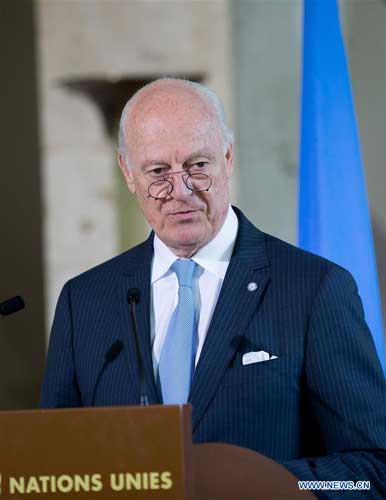 The UN special envoy for Syria Staffan de Mistrua holds a press conference in Geneva, Switzerland, May 11, 2017. [Photo/Xinhua]
GENEVA -- The UN Syria envoy confirmed Thursday that the next round of Syria peace talks is slated to kick off on May 16, adding that negotiations between warring factions will be both short and business-like.
"As you all know, we are preparing the new intra-Syria round of talks next week... and we are aiming (at finishing) as a target towards (May) the 19th," Staffan de Mistrua told press.
"These (talks) will be rather business-like, rather short compared to other meetings," he added.
The diplomat explained that the timing and brevity of upcoming negotiations were linked to the need to keep the momentum going while taking into heed the start of Ramadan on May 26.
UN-mediated talks will also follow parallel meetings in the Kazak capital of Astana earlier this month which saw regional stakeholders pledge to create "de-escalation zones" in the war-torn country.
"When we talk about the four de-escalation areas, these have the potential of affecting, hopefully positively from a humanitarian point of view, at least 2.6 million people," de Mistura said.
"So we are talking anyway of a major impact, if as we hope that would work," he added.
The next round of intra-Syrian peace talks will the third between warring factions since the start of the year.
While some progress on the humanitarian front has been achieved, opposing delegations remain at odds as to what a future, peaceful Syria, might look like.
De Mistura's job is to help bridge deep-seated gaps between rival delegations, while ensuring that any outcome is in line with UN Security Council resolutions.
While progress on the political track has been sparse, the UN stands by its commitment to pursue peace through political negotiations to prevent further bloodshed in a country where as many as 400,000 people have died and millions more have been forced to flee their homes.