Nigerian leader meets with 82 Chibok schoolgirls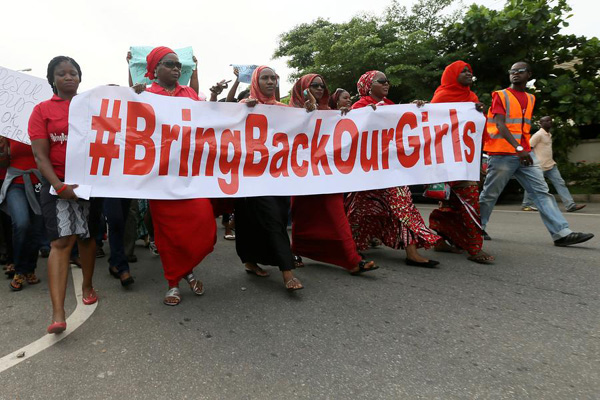 Nigerians take part in a protest demanding for the release of secondary school girls abducted from the remote village of Chibok, in Asokoro, Abuja May 13, 2014. [Photo/Agencies]
LAGOS - Nigerian President Muhammadu Buhari on Sunday evening received the newly released 82 Chibok girls at his official residence in the Presidential Villa, Abuja, the nation's capital.
The country's Minister of Women Affairs, Aisha Alhassan arrived with the girls in two white Nigerian Army buses.
A Xinhua reporter said the buses had window blinds that made it impossible to see the faces of the girls.
The girls were received behind closed doors by the President as only Nigeria Television Authority (NTA) Cameraman and the President's Personal Photographer, Bayo Omoboriowo were allowed in.
Service Chiefs and many top government officials were also at the meeting, the reporter said.
The girls were released on Saturday after negotiation with the militants.
This brings to 103 the girls already freed by the Boko Haram militants.
The first batch of 21 were freed last October with the aid of the Red Cross and Switzerland. Two others walked into freedom on their own, making 105 girls out of the Boko Haram clutches.
Over 200 girls were kidnapped at Chibok Girls Secondary School on April 14, 2014, to the shock of many Nigerians and the international community.
The Buhari administration, since it came into office on May 29, 2015, has been working toward freeing all the girls still in captivity.
At the third anniversary of the abduction of the girls, President Buhari reiterated his commitment to rescue the girls.