Chinese FM meets with US counterpart on bilateral ties, nuclear issue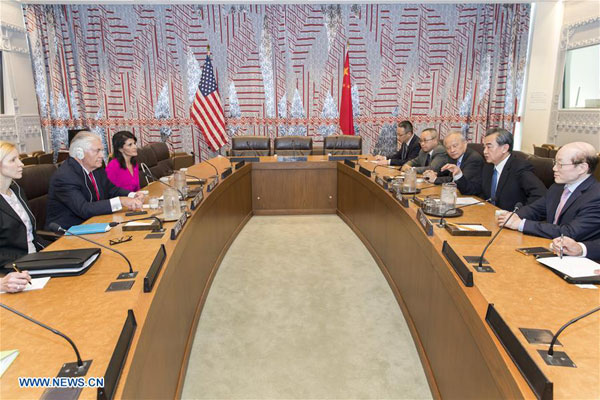 Chinese Foreign Minister Wang Yi (2nd R) meets with US Secretary of State Rex Tillerson (2nd L) at the UN headquarters in New York, April 28, 2017. [Photo/Xinhua]
UNITED NATIONS -- Chinese Foreign Minister Wang Yi on Friday met with US Secretary of State Rex Tillerson on the sidelines of a Security Council ministerial meeting on the Korean Peninsula's nuclear issue.
On bilateral ties, Wang said that the historical meeting between Chinese President Xi Jinping and US President Donald Trump at the Mar-a-Lago estate in Florida was a complete success.
China-US relations have thus achieved a smooth transition with a good start, a positive sign that the two sides are willing to cooperate for the well-being of the two peoples and to jointly contribute to world peace, he said.
Wang noted that close communication between leaders of the two countries plays an important and leading role in the development of bilateral ties.
In this regard, the two sides need to cooperate closely to make preparations for Trump's state visit to China this year, he added.
Noting that China and the United States have established four high-level dialogue mechanisms, Wang said that the two sides should move forward to reach more consensuses and manage differences well so as to ensure the healthy and stable development of bilateral ties.
For his part, Tillerson expressed gratitude to Wang for attending the ministerial meeting in New York.
Tillerson said that the United States spoke highly of the important meeting between the presidents of the two countries at Mar-a-Lago, which has guaranteed the smooth transition of US-China relations and enhanced mutual trust.
The two sides have launched cooperation in a constructive way on international and regional issues including the nuclear issue of the Korean Peninsula, by which the United States is encouraged, he said.
The United States is looking forward to working with China to hold high-level dialogues in various areas, enhance communication, strengthen cooperation and confront challenges, he added.
The two sides agreed that in face of the escalating tension on the Korean Peninsula, it is necessary and timely to convene such a meeting on this matter at the Security Council.
All parties have agreed that the current situation on the Korean Peninsula poses a challenge, said the two sides.
All parties have reiterated the goal of denuclearization and have promised to strictly implement relevant Security Council resolutions and to resolve the issue through peaceful dialogue and negotiation so as to ease tensions as soon as possible, said the two sides.