May tries to warm Brexit atmosphere with Europe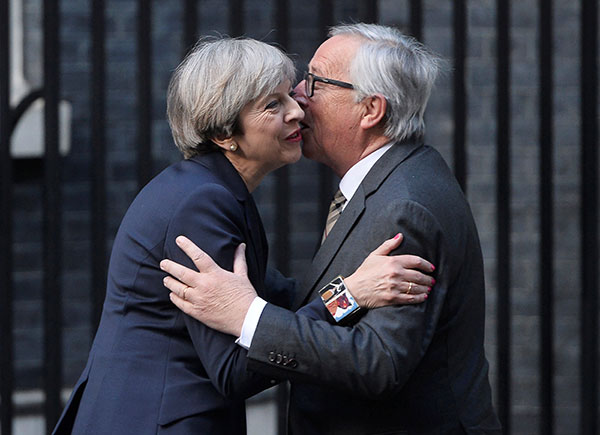 British Prime Minister Theresa May greets Jean-Claude Juncker, head of the European Commission, in London, on Wednesday. Hannah Mckay / Reuters
LONDON - British Prime Minister Theresa May told European Commission President Jean-Claude Juncker on Wednesday she wanted a "deep and special relationship" with the European Union, trying to warm the atmosphere before Brexit talks begin.
After a dinner at her Downing Street official residence with the EU's main Brexit negotiator, Michel Barnier, and his British counterpart, David Davis, both sides said the meeting was "constructive" but offered few details.
The four have in recent weeks been careful not to poison the atmosphere before the talks, leaving financial markets and business leaders to guess what the mood is as battle lines are drawn before the complex negotiations for Britain to leave the EU, following last June's referendum vote to quit.
"The prime minister had a constructive meeting this evening with President Juncker of the European Commission," a spokesperson for May said in a statement.
"Following the UK's letter of notification under Article 50 (on its departure from the EU), she reiterated the UK's commitment to achieving a deep and special partnership with the European Union."
The cautious wording is in stark contrast to the early days of May's premiership, when she riled EU leaders by taking a firmly pro-Brexit stance to win over her governing Conservative Party and, she said, to carry out the will of the people.
May is keeping her cards close to her chest before the talks, not wanting to give her hand away.
But she is letting members of her government speak out. Foreign Secretary Boris Johnson said on Wednesday that while divorce talks with the EU could be tough, Britain would win a good deal.
The EU said it expects the talks to begin after that election - when May hopes to strengthen her parliamentary majority - and when she has confirmed her negotiating team, which is now led by Davis.
Meanwhile, German Chancellor Angela Merkel told Britons on Thursday not to delude themselves that they would continue to enjoy EU rights after Brexit and insisted the bloc would only agree on future ties with London after they have nailed down a deal to leave.
Striking a firm tone in a speech, Merkel also said talks on Britain's financial obligations to the EU would have to be addressed early on in the talks.