Debate focuses on security, DPRK
Front-runner in polls defends stance on engagement policy with Pyongyang
SEOUL - The second TV debate of five major presidential candidates of the Republic of Korea focused on issues related to security and the Democratic People's Republic of Korea amid tensions on the Korean Peninsula.
During Wednesday night's debate, four candidates showered questions at Moon Jae-in of the biggest Minjoo Party, a front-runner in polls who has maintained an engagement policy toward the DPRK.
Moon is the former chief of staff to late president Roh Moo-hyun who met in 2007 with late DPRK leader Kim Jong-il, the father of current top DPRK leader Kim Jong-un.
Hong Joon-pyo of the former ruling Liberty Korea Party, which had kept a hardline stance on the DPRK, criticized Moon for his argument for an expanded economic cooperation between the two countries. Hong denounced Moon as a pro-DPRK follower and a leftist.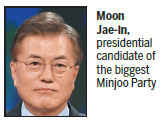 Moon said the expanded cooperation would economically benefit not only Pyongyang but also Seoul, of which companies can do business with the northern neighbor. The companies will hire subcontractors, which in turn, employ more ROK workers.
Sim Sang-jung of the minor progressive Justice Party demanded Moon express a clearer stance on the installation of the US Terminal High Altitude Area Defense missile system on ROK territory.
Regarding this, Moon said the final decision on THAAD should be made by the next government after going through appropriate procedures such as the parliamentary approval and public discussions.
Seoul and Washington agreed in July to deploy one THAAD battery in the ROK. A THAAD battery is composed of six mobile launchers, 48 interceptors, an AN/TPY-2 radar and a fire and control unit.
On March 6, two mobile launchers and part of THAAD elements were delivered to a US military base in the ROK, raising concerns about a hurried push for the deployment before a presidential election.
The presidential election is scheduled for May 9 following the impeachment of former president Park Geun-hye on March 10 over corruption allegations.
The hasty push for THAAD has caused strong oppositions from regional countries, including China and Russia, as it breaks regional strategic balance and damages security interests of the two countries.
Meanwhile, a Danish court on Wednesday upheld a decision by the public prosecutor in Copenhagen to allow the extradition of the daughter of the confidante of Park to face prosecution in her home country.
The 20-year-old Chung Yoo-ra, who is wanted as part of the corruption investigation, is the daughter of Choi Soon-sil, who is jailed on suspicion of bribery and receiving favors from companies in return for manipulating government affairs.
The District Court of Aalborg ruled that there was no impediment to extraditing her, prosecution spokesman Simon Gosvig said. Chung was arrested in Aalborg in northern Denmark on Jan 1 on an international warrant.
(China Daily 04/21/2017 page11)