US reassures Japan of resolve on DPRK
Washington will work with regional allies and Beijing on nuclear issue
Visiting US Vice-President Mike Pence said in Tokyo on Tuesday that President Donald Trump is determined to work closely with Japan, the Republic of Korea, other allies in the region and China to achieve a peaceable solution and denuclearization of the Korean Peninsula.
Pence told Japanese Prime Minister Shinzo Abe that Washington understands the severe security situation facing Japan and is behind its ally "100 percent".
Abe said Pence's visit to Japan is "extremely timely given the severe state of the situation" surrounding the Democratic People's Republic of Korea.
Abe said Tokyo hopes for peaceful dialogue with Pyongyang, adding that pressure on the DPRK is crucial. "Dialogue for the sake of dialogue is meaningless," Abe said.
The Japanese leader told Pence of Japan's appreciation for Trump's stance that all options, including military action, are "on the table" to pressure the DPRK to cease its nuclear weapon and ballistic missile development efforts.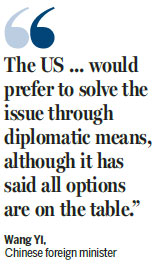 Foreign Minister Wang Yi called again for calm on Tuesday amid mounting tension on the peninsula, saying he believes that diplomatic solution is still the first choice of Washington. "The US has, in fact, emphasized and reiterated that it would prefer to solve the issue through diplomatic means, although it has said all options are on the table," he told reporters in Beijing.
Doctrine 'is over'
The US is deploying an aircraft carrier and accompanying vessels to waters near the peninsula amid indications the DPRK is planning its sixth nuclear test.
During his visit to Seoul, Pence warned that the "era of strategic patience is over", referring to the doctrine former US president Barack Obama adopted to deal with the DPRK.
Abe and Pence agreed to hold another "two-plus-two" ministerial-level security dialogue in the near future, according to the Kyodo News agency.
An opinion poll by Japanese newspaper Yomiuri Shimbun on April 14-16 showed that 64 percent of the respondents supported US moves to increase military pressure on the DPRK. This far exceeded the 27 percent who said they did not approve of Washington' actions.
Japan and the US kicked off the first round of their economic dialogue chaired by Japan's Finance Minister and Deputy Prime Minister Taro Aso on Tuesday, outlining a path forward for economic talks between the two countries.
They agreed that the dialogue would focus on three areas: trade and investment rules and issues, cooperation in macroeconomic policy and specific industry sectors.
Pence said Trump sees the talks as a way to improve business ties with Japan and is hoping for quick results. The dialogue was set up by Trump and Abe in February.
"We want to take the lead in bolstering economies in the Asia-Pacific region and the world by developing Japan-US economic ties," Aso said at a joint news conference with Pence after their talks.
Pence flew in on Tuesday from Seoul on the second stop of his 10-day Asia trip, which will also take him to Indonesia and Australia.
caihong@chinadaily.com.cn
(China Daily 04/19/2017 page13)