Chinese community holds protest in Paris against death of one Chinese national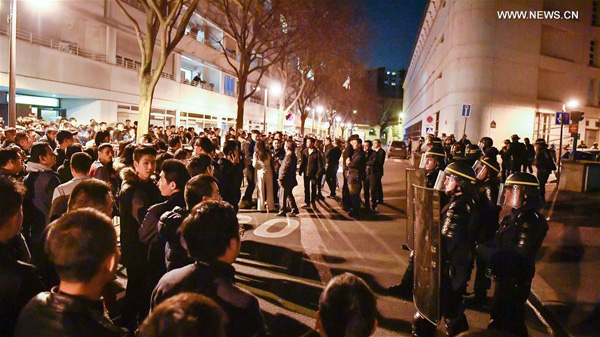 Demonstrators and police force are seen in front of a police station in Paris, France, March 27, 2017. [Photo/Xinhua]
PARIS - About a hundred people from the Chinese community held a demonstration on Monday evening in front of a police station in the 19th arrondissement of Paris to protest against the death of a Chinese national who was killed Sunday night in a conflict with the police.
At least one man of Chinese origin was injured, according to witnesses, as police officers intervened with batons and tear gas at around 8:40 pm local time to disperse protesters outside a police station on the Erik Satie street of the 19th arrondissement.
The protesters had set up candles on the ground in the shape of words "Opposition to violence" in French and "Dying with injustice unredressed" in Chinese. Some of them chanted slogans "Murderers! Murderers!"
"We're here to commemorate our compatriot, and we do not want to die of police violence," a protester said. "That's equality?" questioned another protester, a Chinese who has lived for ten years in France.
A Chinese national was shot dead at his home in Paris by a policeman on Sunday night. Some French media reports described the killing as a "legitimate defense" against "an assailant with scissors." However, local Chinese media reports, quoting a daughter of the man, said the 160-cm-tall man, a father of five children, did not attack the policeman at all.
The Chinese embassy in France in a statement on Monday confirmed the death of the Chinese national, urging the French authorities to ascertain the truth in a quick manner and handle the case fairly.
According to the website of the Chinese embassy in France, after being informed of the incident, the consular section of the Chinese embassy in France contacted the French police, asking them to find out the cause of this incident.
The French police authorities said that the police investigators were making investigation into the death of the Chinese national in Paris, according to the source of the embassy.
The Chinese embassy also sent its condolences to the victim's family and asked the French authorities to find out the true situation as soon as possible.