UK university setting up campus in Northeast China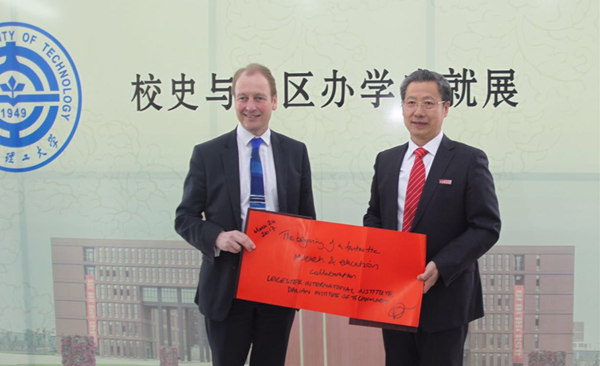 Paul Boyle, vice-chancellor of the University of Leicester(left) and Lu Zhongchang, vice-president of Dalian University of Technology jointly announced the opening of the new campus last Friday in Panjin, Northeast China's Liaoning province.  [Photo/China Daily]
The UK's University of Leicester announced at the weekend that it will establish its first-ever overseas campus jointly with Chinese partner Dalian University of Technology, in Panjin, a coastal city 560 kilometers northeast of Beijing.
Paul Boyle, vice-chancellor of the university, said this new international institute will serve not only local Chinese students, but learners from the United Kingdom as well.
"It is serious collaboration," he said. "We will work together with our Chinese partner to build a bridge, which is over 8,000 kilometers long and it will be built by the professors, officials and students from both sides."
The University of Leicester, which was founded in 1921, is ranked 26th in the UK's education league table, according to The Times Higher Education World University Rankings 2017. It has around 28,000 students, including nearly 10,000 international students from more than 70 countries and regions.
Lu Zhongchang, vice-president of Dalian University of Technology, said the collaboration is part of the institute's efforts to advance international cooperation. He said he hopes it will provide support for regional economic development.
Dalian University of Technology is one of China's leading schools and has a good reputation for delivering excellence in chemistry, mechanics, and environmental science. It has set up cooperation agreements with 207 universities, enterprises and international organizations from 29 countries and regions.