Man shot dead after seizing soldier's gun at Paris Orly airport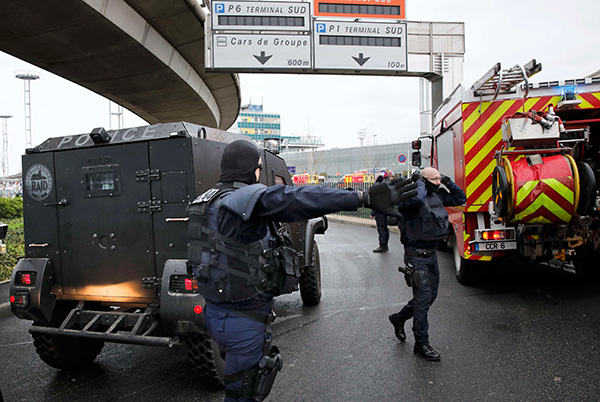 Police at Orly airport southern terminal after a shooting incident near Paris, France March 18, 2016.[Photo/Agencies]
PARIS - Security forces shot dead a man who seized a soldier's gun at Paris Orly airport on Saturday and a police officer was shot and injured in a separate incident north of the French capital, the French Interior Ministry said.
A bomb sweep took place at the airport to make sure the dead man was not wearing an explosive belt, but nothing was found, Interior Ministry spokesman Pierre-Henry Brandet told Reuters.
"The man succeeded in seizing the weapon of a soldier. He was quickly neutralised by the security forces," Brandet said.
A police officer was also injured after being shot during a routine road check in an earlier incident in Stains, north of Paris.
Brandet said it was not clear if the two incidents were linked. BFM and M6 television networks said it was the same individual.
The incidents come weeks before France holds presidential elections. The country remains on high alert after attacks by Islamic State militants killed scores of people in the last two years and a state of emergency is in place until at least the end of July.
Around 3,000 passengers were evacuated from the airport, the second busiest in the country.
Flights were suspended from both terminals of the airport and some flights were diverted to Charles de Gaulle airport north of the capital, airport operator ADP said.
France's anti-terrorism prosecutor has opened an investigation after the dead man, an official at the prosecutor's office said.
The investigation will also cover an earlier incident in which a man, believed to be the same person, fired on security services after a routine road check.
A police source said the man was known to authorities and had been on a police watch list.
Reuters