Botswana competitor claims Miss Mama Africa 2017 crown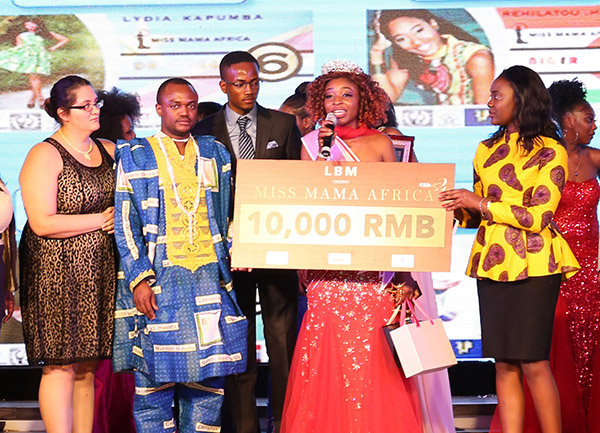 The second edition of the Miss Mama Africa competition concluded on March 11 in Beijing and saw Lesedi Falama from Botswana take this year's crown.[Photo/China Daily]
The second edition of the Miss Mama Africa competition concluded on March 11 at Dajiaoting International Hotel in Beijing and saw Lesedi Falama from Botswana take this year's crown.
The beauty contest, sponsored by Beijing-based digital television programming provider StarTimes, will soon be broadcast on the StarTimes network. The network has seen rapid growth since it first brought its digital television programming to Africa in 2007.
A total of 11 contestants, from seven African countries, who are working, studying or living in China, took part in the final competition.
Contestants demonstrated their beauty, leadership qualities and intelligence through a series of costume shows, debates and presentations.
A reality show based on the Miss Mama Africa competition will also be broadcast on the StarTimes TV network in Africa.
The event demonstrated the unique charms of modern African youth and the traditional African costumes on display were a visual treat for the audience.
The competition offered professional training sessions and studio-based photo shoots, as well as outdoor activities for contestants.
There were also opportunities for constants to pay a visit to Beijing's siheyuan, a traditional type of residence once commonly found throughout China, and especially in Beijing in the Ming Dynasty (1368-1644). The name literally means a courtyard surrounded by buildings on all four sides. Contest participants also visited the hutong, or lanes, connecting siheyuan.
Mitero Njenga, the event's organizer, indicated that the contest aims to offer a new platform to understand African women, exhibit African cultures and express African women's lifestyles and presences.
Jean Charles Okoto, ambassador of the Democratic Republic of Congo, said the event honors the rising role and status of women in Africa.
"In the past, the social status of women was not highly respected in Africa, but in recent years, we have seen tremendous changes for helping women achieve equal position with men."
"We expect that such an event could help (to create) greater cultural understanding between China and Africa."
To date, StarTimes has registered 30 subsidiary companies in Africa and currently has 9 million subscribers.
It has become the continent's fastest-growing and most influential digital TV broadcaster.
To date, the group has 38 independent channels and statistics from the company indicate that it adds an additional 30,000 hours of new programs annually.
Its self-developed reality shows as well as its sports, music, health, documentary, film and entertainment programs have gained widespread recognition among an ever-increasing audience.