A continent and a country join in a celebration of women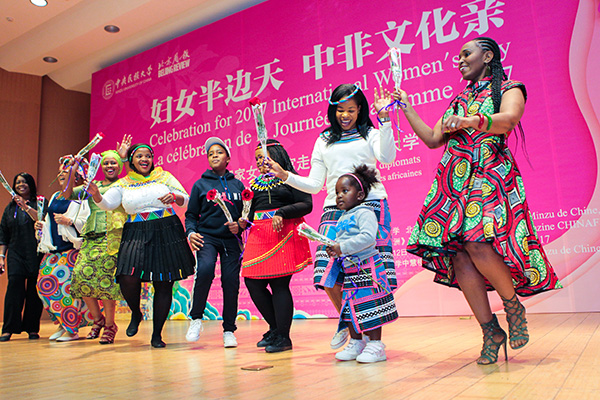 African women showcased their traditional national attire. [Photo/provided to China Daily]
Women from China and more than 10 African countries gathered on March 12 to celebrate International Women's Day, on March 8.
About 50 African women showcased their traditional national attire, while enjoying performances from artists of a variety of Chinese ethnic minorities and visiting the Museum of Ethnic Cultures of Minzu University of China.
Dolana Msimang, South Africa's ambassador to China, said that Chinese and African cultures are so different, yet very similar and it is this that sparks people's curiosity.
"It is important to embrace the theme of this event, which is about integration and culture. It is about synergy of diverse cultures. It is about us getting together to celebrate all that is beautiful and wonderful about China and Africa. I hope we will be able to share our unique characteristics and knowledge defined by everything from language, cuisine, social habits, music and arts."
Li Yafang, president of the weekly magazine Beijing Review, said Chinese and African women, though having different values and traditions, are beautiful, diligent, resilient and kind.
"The activities today will help us have a better understanding and recognition of each other, and a more profound friendship," she said.
The event was sponsored by Beijing Review and Minzu University of China, and organized by China Africa magazine.