Decrease funding to peace missions at your own peril, UN warns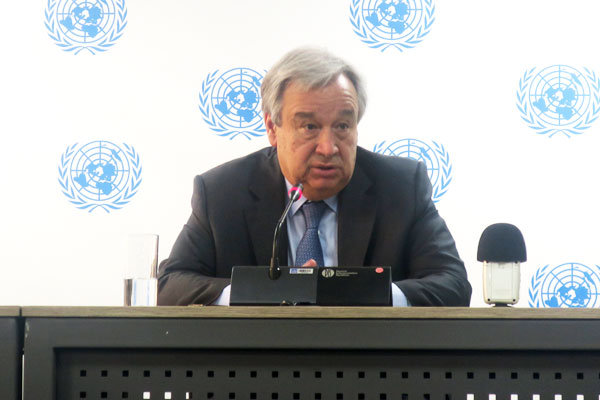 UN secretary general Antonio Guterres speaks during a press conference in Nairobi to call for more funding support to UN peacekeeping missions and humanitarian programs in Africa. [Photo by Lucie Morangi/chinadaily.com.cn]
The United Nations secretary-general Antonio Guterres has called on nations to up spending for peace and security programs arguing global stability hangs on the effectiveness of these missions in conflict-ridden areas.
Gutteres noted that emerging trends show networks behind these conflicts are closely interconnected and under-funding regional peacekeeping missions such as the African Union Mission in Somalia (AMISOM) handicaps their efforts to stamp out terrorism.
"I am optimistic that the international community would prioritize this, for it is in their best interest," Guterres said while concluding a two-day visit in Kenya.
He urged the donor community to support the UN's build-up operations in response to emerging issues driven by extremist groups such as Boko Hram in North Eastern Nigeria and Al Shabaab in Somalia.
The secretary-general added that the UN is building up its capacity to ensure that these programs are run efficiently and cost-effectively.
"We want to build the confidence of all our member countries that support our programs by contributing their troops."
He admitted that some peacekeeping missions may be scaled down in areas that are now relatively stable such as Darfur in South Sudan, while other areas will see an increase.
Gutteres arrived in Kenya on Sunday for talks on regional issues, particularly hunger, famine and insecurity facing the horn of Africa. Notably, his tour focused on challenges faced by Somalia, South Sudan, Nigeria and Yemen.
He said that the combination of prolonged drought and conflict has aggravated the humanitarian situation in these countries prompting the UN to launch a $4 billion aid appeal last month for the four nations. Somalia alone needs $825 million to respond to its food crisis.
Gutteres expressed dismay at the humanitarian crisis experienced by nearly half the population in Somalia. He was, however, optimistic that the situation can be reversed through the strong support of the international community. Pledges have been made, but the UN chief said more is needed.
"Somalia urgently needs humanitarian aid, for the AMISOM force in the country to be adequately equipped and thirdly for the new leadership to be supported."
The new Somalia administration, led by President Mohamed Abdullahi, is committed to rebuilding the country and there are plans underway to put tax stems in place, Gutteres said.
"But for their development plans to materialize, they need to strongly engage with the international community. "
Gutteres said supporting AMISOM will boost the government's mandate to restore its state functions.
"Somalia is already receiving support from its neighbors and the African Union. The international community needs to proactively step in and support its transformation."
Earlier in the day, the UN leader met Kenya's president Uhuru Kenyatta where he commended the east African country's effort to maintain peace and security in the region.