London's financial firms courting China
Lord Mayor of the City of London Andrew Parmley is cementing the capital's financial ties with China as London fights to maintain its position as a top European financial hub amid Brexit uncertainty.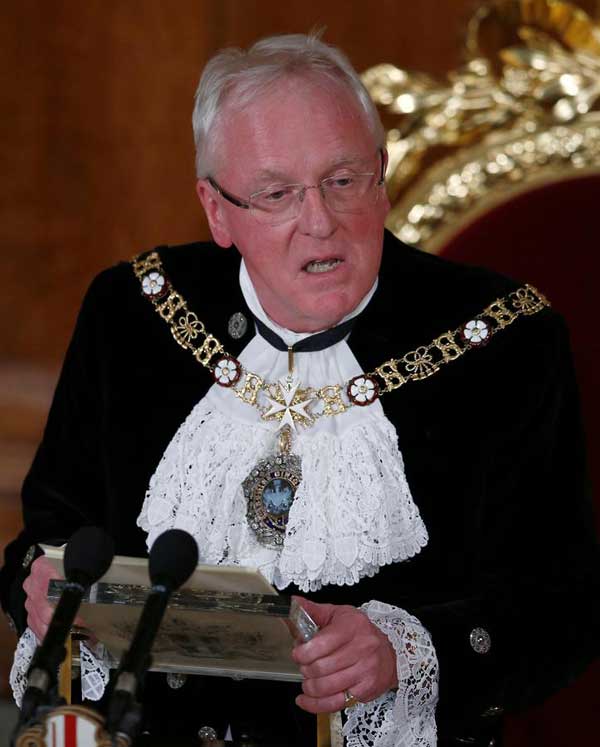 The Lord Mayor of London, Dr. Andrew Parmley, delivers a speech at the Lord Mayor's Banquet, at the Guildhall, London, Britain November 14, 2016.  [Photo/Agencies]
Parmley is leading a delegation to Hong Kong, Beijing, Shanghai and Tianjin. The group comprises representatives from London's financial services companies, and will be in China from Feb 16 to 25.
The delegation will meet Chinese regulators and representatives from Chinese companies to discuss issues including bilateral financial services collaboration, fintech, green finance and a proposed link between the London and Shanghai's stock exchanges.
"It is no secret that our relationship with China is more important than ever as we negotiate our departure from the European Union," Parmley said to journalists in London ahead of his tour. "My visit came at an opportune time to show government and industry that the UK remains open for business."
Brexit uncertainties have threatened London's reputation as a leading European center. Banks, including JP Morgan, Morgan Stanley, and HSBC are already reportedly considering relocating staff to other EU economies. Brussels-based think tank Bruegel estimates the UK could lose 30,000 finance sector jobs as a result of Brexit fallout.
A crucial issue for London is whether it will lose its so-called passporting rights.
Jan Dehn, head of research at the London-based Ashmore Investment Management, said China is in a good position to gain from Brexit because Brexit could prompt the UK to offer "far more attractive terms to third parties, including China, in order to make up for the loss of markets within the EU".
Zeng Yeqin, a lecturer in finance at Henley Business School, said despite Brexit London can play an important role to achieve its renminbi internationalization goals and share lessons with China on financial market regulation.
Meanwhile a feasibility study is well under way that looks into the linking of the London and Shanghai stock exchanges and the mutual trading of stocks.