One dead, several injured after car crashes into pedestrians in Melbourne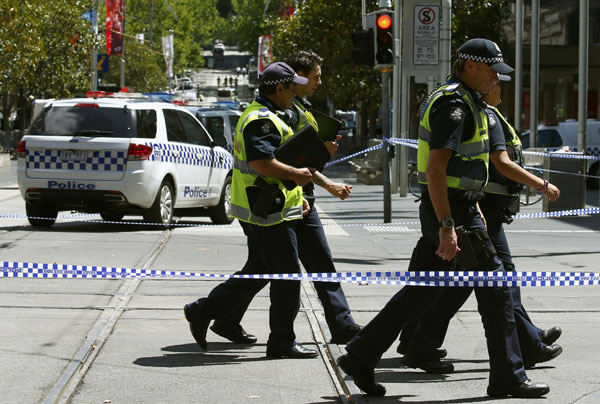 Police cordon off Bourke Street mall after a car hit pedestrians in central Melbourne, Australia, January 20, 2017. [Photo/Agencies]
SYDNEY - One person was killed and 20 injured when a car hit pedestrians in the centre of Australia's second-largest city Melbourne on Friday, police and emergency services said.
Australian media reported that the car was driving erratically before the incident, which occurred during the city's busy lunchtime, and at least one shot was fired.
Police have locked down the city and suspended tram services after the incident in the heart of the popular Bourke Street shopping mall area.
Australia, a staunch US ally, has been on heightened alert for attacks by home-grown radicals since 2014 and authorities have said they have thwarted a number of plots. There have been several "lone wolf" assaults, including a 2014 cafe siege in Sydney that left two hostages and the gunman dead.
"At this stage it is believed a man driving a vehicle has struck a number of pedestrians in Bourke and Queen St just before 2 pm," Victoria state police said in a statement posted on their official twitter account.
Police confirmed that one person was dead and that a man had been arrested. Emergency services are treating the incident as a "mass casualty event" and hospitals have been put on "Code Red" to accept casualties.
Melbourne is currently hosting the Australian Open tennis grand slam and is packed with thousands of extra tourists, only a few blocks from where the incident occurred.
Victoria police said that the tennis tournament was open and operating normally.