Trump acknowledges Russia role in US election hacking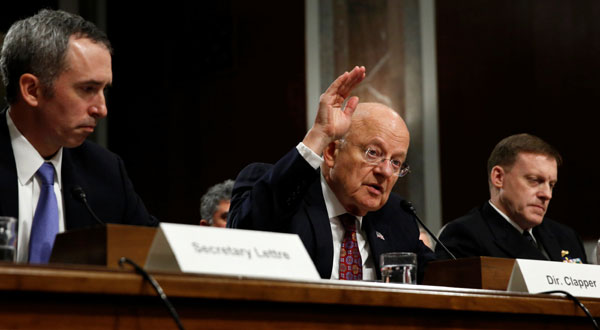 Director of National Intelligence James Clapper testifies before a Senate Armed Services Committee hearing on foreign cyber threats, on Capitol Hill in Washington, US, January 5, 2017. [Photo/Agencies]
'ACTION MAY BE TAKEN'
After receiving a briefing on Friday from leaders of the US intelligence agencies, Trump did not refer specifically to Russia's role in the presidential campaign.
Trump spokesman Sean Spicer told Reuters the president-elect's conclusions remained the same and that Priebus' comments were in line with Friday's statement.
Priebus' wording did not appear to foreshadow the dramatic reversal of Trump's apparent Russia policy that experts say would be required to deter further cyber attacks.
"It will take a lot more than what we heard on television today to make Putin cool it," the expert added. "In fact, there may not be anything that can deter Putin from pursuing a course he's bet his future and Russia's on," said a US intelligence expert on Russia, speaking on condition of anonymity to discuss domestic political positions.
The expert added that Putin's "multifaceted campaign of cyber attacks and espionage, propaganda, financial leverage, fake news and traditional espionage" had expanded in the United States since the election, "and it will be a shock if it does not escalate in France, Germany and elsewhere this year."
Priebus, the former Republican National Committee chairman Trump tapped as White House chief of staff, said Trump planned to order the intelligence community to make recommendations as to what should be done. "Action may be taken," he said, adding there was nothing wrong with trying to have a good relationship with Russia and other countries.
Two senior Republican senators urged Trump to punish Russia in response to US intelligence agencies' conclusion that Putin personally directed efforts aimed at influencing the election.
Appearing on NBC's "Meet the Press," Senators Lindsey Graham and John McCain said evidence was conclusive that Putin sought to influence the election - a point that Trump has refuted.
"In a couple weeks, Donald Trump will be the defender of the free world and democracy," Graham said. "You should let everybody know in America, Republicans and Democrats, that you're going to make Russia pay a price for trying to interfere."