'Trump watching' is now a market sport for investors
Updated: 2017-01-06 05:35
(HK Edition)
| | | | | | | | | |
| --- | --- | --- | --- | --- | --- | --- | --- | --- |
|   | | Print | | Mail | | Large Medium  Small | 分享按钮 | 0 |
The "Trump effect" which emerged after Donald Trump won the US presidential election in early November is widely expected to continue to dominate world investment markets in 2017.
As we have seen in recent weeks, the expected impact of the Trump presidency on Hong Kong has been direct and immediate through interest rates and capital flows - the two key elements that move asset values. To make money or to avoid losing it, "Trump watching" is a market sport which every savvy investor needs to learn.
Trump will be sworn in as president in mid-January. Before that, everything is guesswork based on his campaign rhetoric and also the people he has chosen for his cabinet and advisory team.
What seems to have captured the attention of stock analysts most is the president-elect's professed fiscal policy of increasing public expenditure on infrastructure development to stimulate economic growth. This expansive policy, together with tax cuts as promised by Trump, would almost certainly widen the government deficit and boost aggregate demand. This would in turn push up wages and prices.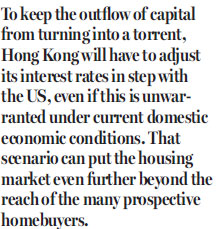 The prospect of higher inflation is expected to prompt the Federal Reserve to raise interest rates more quickly in 2017 than was earlier expected. In these circumstances, the SAR will have no choice but to follow suit in order to defend the dollar peg.
Hong Kong Monetary Authority, the city's de-facto central bank, raised the base rate to 1 percent last month in response to an increase of 25 basis points in US rates. The surprise jump in local rates sent the stock market into a tailspin with the benchmark indicator losing almost 400 points on that day.
Although the market quickly regained its footing, investor sentiment remained subdued. The biggest concern in the minds of investors is the prospect of a sudden and massive outflow of regional capital to the US to take advantage of the increasingly buoyant stock market and rapidly appreciating US dollar.
Capital inflows from various regional economies since the 2016 second quarter have been widely attributed to the local stock market rally and escalating property prices. The investment bonanza was further fueled by the abnormally low cost of borrowing offered by banks to compete for mortgage lending and personal loan businesses.
All this may change after the US rate hike in mid-December. To be sure, the Hong Kong government's resolve in defending the linked exchange rate system is well recognized. But the seemingly unstoppable appreciation of the US dollar may prompt more and more overseas investors to play it safe by shifting some of their money to the US from Hong Kong.
To keep the outflow of capital from turning into a torrent, Hong Kong will have to adjust its interest rates in step with the US, even if this is unwarranted under current domestic economic conditions. That scenario can put the housing market even further beyond the reach of the many prospective homebuyers.
Interest rate increases usually have the effect of depressing housing prices, making them more affordable to home buyers who are willing and able to put up with the increased borrowing cost. But this time, rising interest rates could lead to an increase in capital inflow into the property market, keeping home prices high.
Local homebuyers are out of luck. All they can do is to wait for the increase in the supply of government-built low-cost apartments for sale only to local people.
What do you do with your money other than keep it in the bank waiting for further rate increases? Some investment analysts suggest that buying stocks is not a bad idea as long as you don't expect a sizable capital appreciation.
Their hot picks include some of the major financial stocks which stand to benefit from rising interest rates. They particularly mentioned bank stocks with high dividend yields. The dividend payout of HSBC, the largest bank in Hong Kong, is expected to exceed 5 percent at current prices. This is more than double the interest on time deposits.
It's not clear whether Trump can make good on all the things he promised to do. But he is a new phenomenon who will affect global investment trends in the years to come. Keep your eye on the ball.
The author is a veteran current affairs commentator.
(HK Edition 01/06/2017 page1)