Children in Aleppo share 'the Little Match Girl' suffering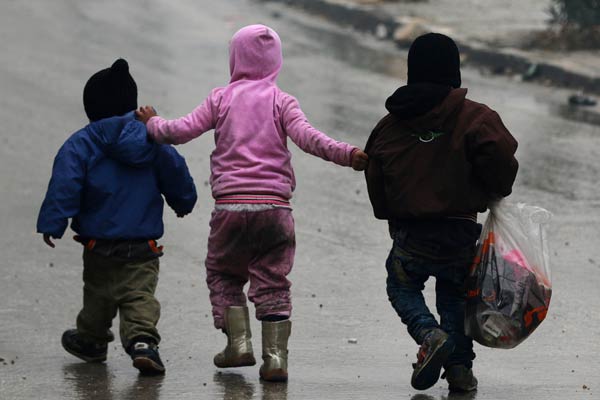 Children walk together as they flee deeper into the remaining rebel-held areas of Aleppo, Syria, Dec 13, 2016. [Photo/Agencies]
ALEPPO - The sad but famous story of the little girl with the matchsticks is no longer a fairy tale, as thousands of children in a displacement center in Syria's northern city of Aleppo are living similar stories.
Everyone got touched and saddened by the story of a dying child's dreams and hope with every fading matchstick in a cold night, which was first published in 1845.
But in 2016, the story has become nothing in comparison with the real suffering of the displaced children of Aleppo, and their families as well.
In the Jibreen temporary shelter, hundreds of war-weary people and their children have been placed since evacuating their homes in rebel-held areas in eastern Aleppo over a month ago, when the army started retaking large swathes of territory from the rebels.
Those people have fled their homes when they got the chance to leave the rebels' rule to government-controlled areas in the western part of the city.
And even though the government is trying to provide them with basic needs, the suffering of the people is surely much bigger than any effort.
Upon inching close to the shelter's gate, visitors can see plumes of dark smoke bellowing several parts of the area, as people inside burn plastic, mattresses, and everything they can get their hands on in order to make a fire to get warm.
Little children with very little to wear are everywhere in the shelter, their faces are ached and hands blackened. Their skinny bodies shiver from cold, so their parents rush to find something to burn in order to get them warm.

Hasan Subhi Akil, a father of four, said the cold is a killer.
"The cold is killing us, we shiver from the cold every night. Our children suffer from the cold all night. We cover ourselves with two blankets, but it's not enough, the cold is extremely difficult this year," he said, while throwing some papers into a small fire.
He said that he stays up all night with other parents and make a small fire to keep his kids warm.
For her part, Samira, a mother of six, said her children are getting diarrhea and puking from the cold.
"Our situation is bad because of the cold. My kids have got diarrhea, they are also puking and getting sick. We live like animals and our dirt is beneath us. It's extremely cold, it's like sleeping directly under the sky with no roof over us. Life has become intolerable," she said.
Everyone in the shelter has something in common; they cannot sleep at night.
"I honestly cannot sleep at night because of the cold. Yesterday my children were crying out of cold. I am covering them with four blankets but they are extremely thin, and not enough. My kids are pooping and peeing in their pants because of the cold and I have no clothes to change for them," Nadia, a mother of four, told Xinhua.
In the midst of the harsh weather, a little boy was walking wearing a T-shirt only while sliding his hands in his pockets.
"Are you cold? no, I am not... Do you have a jacket? No, I don't," a small conversation between a Xinhua report and one kid, who was so proud to admit he was feeling cold.
The UNICEF recently said that winter is the latest threat to children in conflict-ridden Aleppo.
It added that around 6,200 people who fled fighting in east Aleppo are now sheltering in a former barren warehouse in Jibreen, gripped by the cold.
The UNICEF noted that more than 5,000 children in the Jibreen shelters have now received UNICEF winter clothing kits.