Thorny territorial dispute overshadows upcoming Abe-Putin summit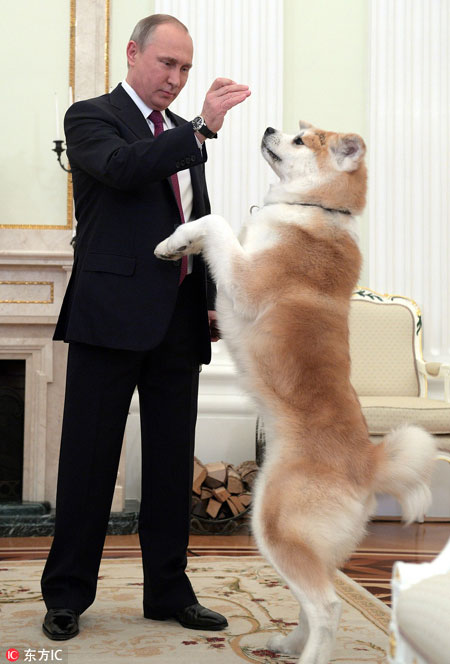 Russia's President Vladimir Putin with his Akita dog named Yume before giving an interview to Nippon Television Network Corporation (Nippon TV) and the Yomiuri Shimbun newspaper, at the Moscow Kremlin. Putin is to visit Japan on December 15-16, 2016. [Photo/IC]
TOKYO - Russian President Vladimir Putin will arrive in Japan on Thursday to meet with Japanese Prime Minister Shinzo Abe though analysts have pointed out that prospect of the summit has been largely undermined by a decades-old territorial row.
Putin, whose two-day visit was initially eyed in 2014 but postponed due to deterioration of bilateral ties following the Ukraine crisis, will be the first Russian president to travel to Japan for a summit in 11 years. The meeting will also be the 16th one between Abe and Putin.
The two leaders will first meet on Thursday at a traditional Japanese hotel in the hot spa resort of Nagato in Abe's home prefecture of Yamaguchi to address the territorial dispute before another round of talks focusing on economic cooperation in Tokyo on Friday, according to the Japanese government.
Russia and Japan have not signed a peace treaty since the end of World War II mainly due to a territory row over four small islands in the Pacific which are called the Northern Territories in Japan and the Southern Kurils in Russia.
Japan maintains the four Pacific islands are its inherent territory illegally occupied by Russia after Japan's surrender in World War II, while Russia, for its part, says the seizure was legitimate and urges Japan to recognize the outcome of the war.
Japan has hoped in recent years to bring progress to the territorial talks through deepening economic cooperation with Russia and helping Russia develop its Far East.
Analysts, however, have pointed out that though Russia might be interested in economic cooperation with Japan, it is unlikely to make concessions on the territorial issue.
Abe expressed on Monday his determination to resolve the dispute, saying that he will "approach the bilateral summit with determination to bring an end to the territorial issue during my generation."
"I will make an all-out effort to make progress on the territorial issue, even if it is just a step closer toward a solution," he said.
Putin, however, said the following day in an interview with Japanese TV that there was no territorial issue between Russia and Japan over the four islands.
"We believe we have no territorial problems at all. It is only Japan that believes it has territorial problems with Russia. We are ready to talk about this," Putin said citing a joint declaration in 1956 between the two countries.