Childbirth challenges in the conflict zone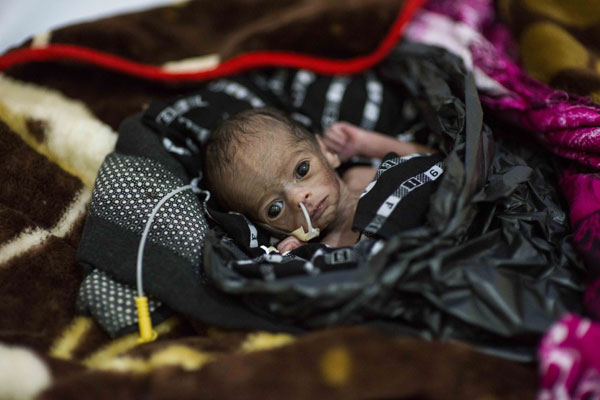 Baby Faadumo, who was born prematurely, is kept warm using a black plastic bag. Photo Provided By UNICEF
Baby Faadumo lies quietly with her big, dark eyes wide open. Her tiny head and dainty fists rest on a nest of blankets, wrapped in a shawl. To keep her warm, the bundle has been placed in a black plastic bag.
Faadumo is 15 days old and was born prematurely at seven months. Her mother, who was only 15, died during childbirth. Ideally, Faadumo should be kept in an incubator. But here in Bosaso General Hospital in the state of Puntland, Somalia, few things are ideal and a plastic bag and blankets are the best doctors can do to keep her warm - and alive.
"We need incubators and our staff also need training on how to use them," said Doctor Mohamed Said, the pediatrician at the hospital.
Besides being premature, Faadumo is also malnourished. She weighed 1 kilogram at birth, and weighs not much more - 1.1kg - now.
Malyuum Osman, 29, rests with her one-day-old newborn, Mohamed. Photo Provided By UNICEF
When asked about the challenges his country faces, Abdirizak Hersi Hassan, Director General of the Ministry of Health in Puntland, sums them up in two words: "Too many."
Since the collapse of the central government in 1991, Somalia has been in an almost constant state of war and its health systems are mostly supported by development partners and funded by donors. UNICEF alone supports 70 percent of Somalia's health facilities. "Without such support," said Hassan, "the health systems will collapse."
At the maternity ward in the mother and child health clinic in 100 Bush Internally Displaced Persons camp, Malyuum Osman, 29, rests with her one-day-old newborn, Mohamed. Over the years she has suffered two miscarriages and seen two children die - a daughter from diarrhea and a boy in an accident.
Despite the basic conditions here, the clinic, staffed by 14 midwives and nurses, is doing wonders for the local population of 15,000 people living in the various displacement camps. It is one of the many clinics supported by UNICEF under the Joint Health and Nutrition Program, which helps women, children and families.
However, there are no firm plans for the continuation of the program in 2017 and beyond. UNICEF, along with partners, is mobilizing resources to keep the health services open and the 2,000 health workers covered under the program - out of 3,000 in the entire country - paid.
Soon Malyuum will be able to go home with the baby to her three other children. The family of five, now including baby Mohamed, survives on $2 a day she makes by cooking for the workers at construction sites. But she remains optimistic.
"I pray to Allah to grant my children health," she says. "I want a good life - a beautiful life - for us all."