Home / World / Asia-Pacific
At least 25 killed in Indonesia's strong quake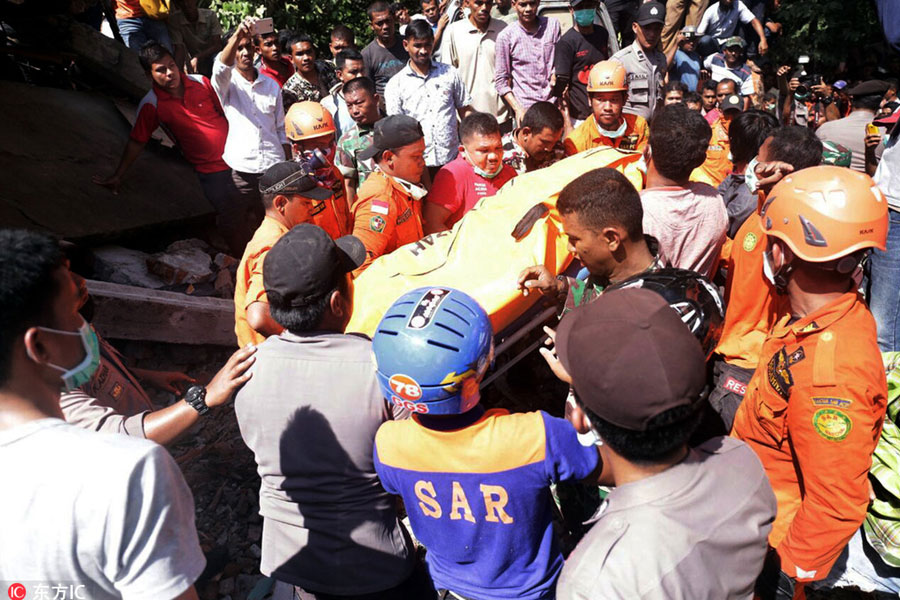 Rescuers carry a body bag containing the body of a victim recovered from under the rubble of a building that collapsed after an earthquake in Pidie Jaya, Aceh province, Indonesia, Dec 7, 2016. [Photo/IC]
JAKARTA -- At least 25 people have been killed after a strong earthquake struck Indonesia's northern Aceh province, the Indonesian disaster management agency said on Wednesday.
"Search and rescue teams have found 25 dead victims and 26 seriously injured," the agency said in a statement.
The quake jolted at 05 : 03 am Jakarta time Wednesday (2203 GMT Tuesday) with epicenter at 18 km northeast Pidie Jaya district and the depth at 10 km under land, an official of the meteorology and geophysics agency said.
The intensity of the quake was felt at 4 to 5 MMI (Modified Mercally Intensity) in Sigli town, and 3 to 4 MMI in Meulaboh town and provincial capital of Banda Aceh, the official said.
Houses, buildings and infrastructure facilities have been damaged in eight districts. "Now we are assessing the impact of the quake", Junjung Tambunan, head of emergency department of the provincial disaster management said.
We are also preparing for the possibility of aftershocks, he added.