Fidel Castro's connection with China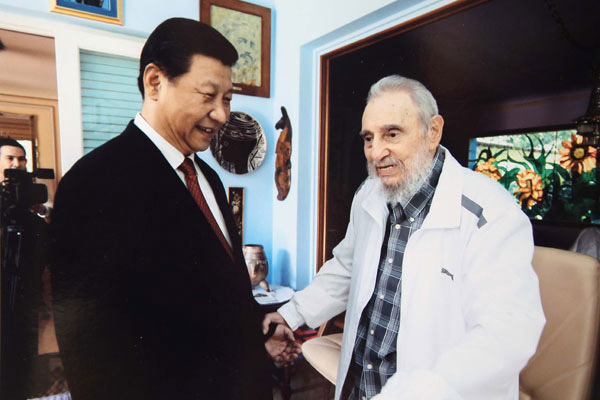 Chinese President Xi Jinping shakes hands with Cuban revolutionary leader Fidel Castro in Havana, Cuba, July 22, 2014. [Photo/Xinhua]
China and Cuba established diplomatic relations in 1960, but it wasn't until 35 years later that Fidel Castro came to China for the first time.
Castro paid a nine-day visit to China in December 1995 and went to Beijing, Xi'an, Shanghai, Shenzhen and Guangzhou.
He made a special trip to China's Great Wall and tasted roast duck at the famous Beijing Quanjude Duck Restaurant.
According to Xu Yicong, China's former ambassador to Cuba, Castro also liked the Chinese sweet osmanthus flavored wine.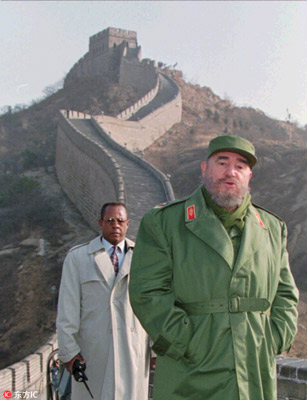 Fidel Castro stands on the Great Wall of China, on Dec 1, 1995. [Photo/IC]
Castro had met with Chinese President Xi Jinping and former Chinese presidents Jiang Zemin and Hu Jintao, but never met late Chinese leaders Deng Xiaoping and Mao Zedong.
In his meeting with President Xi Jinping in July 2014, Castro said he cherishes the memory of his friendly exchanges with China and believes the bilateral relations will yield fruitful results under the guidance of President Xi and Cuban leaders.
His latest meeting with a Chinese leader was with Premier Li Keqiang in Havana, Cuba, September 25, 2016.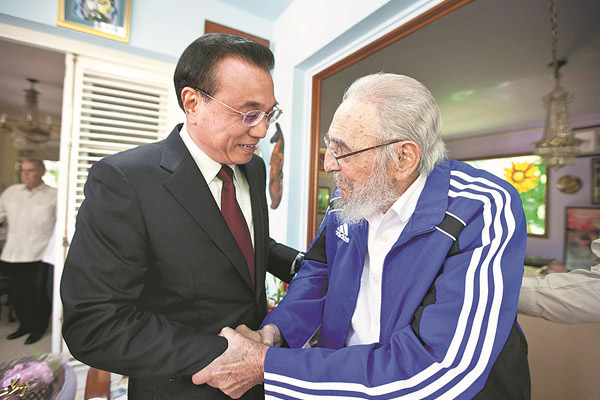 Premier Li Keqiang meets with Fidel Castro in Havana, Cuba, on Sep 25, 2016. [Photo/Agencies]