S.Korean cabinet endorses military intelligence pact with Japan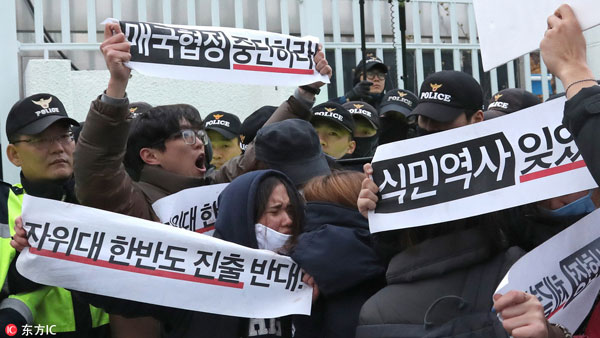 Students protest against a military intelligence pact between South Korea and Japan, Nov 22, 2016. [Photo/IC]
SEOUL - South Korea on Tuesday endorsed a bilateral military intelligence pact with Japan at a cabinet meeting despite public and parliamentary opposition.
The pact to directly exchange military intelligence on the Democratic People's Republic of Korea (DPRK)'s nuclear and missile programs was approved at the cabinet meeting chaired by Yoo Il-ho, deputy prime minister for economic affairs.
The cabinet meeting was initially presided over by President Park Geun-hye, but the president hasn't appeared at the meeting on growing public fury over the scandal involving President Park and her longtime confidante, Choi Soon-sil.
Prosecutors identified Park as a criminal accomplice to Choi in many of criminal acts when indicting Park's decades-long friend on multiple charges including abuse of power and extortion on Sunday.
The signing ceremony of the pact, dubbed the General Security of the Military Information Agreement (GSOMIA), is scheduled to be held in Seoul on Wednesday.
With the presidential ratification expected later Tuesday, South Korean Defense Minister Han Min-koo and Japanese Ambassador to South Korea Yasumasa Nagamine would formally seal the pact.
It will go into effect immediately after the signing. If realized, the two countries would reach an agreement less than a month after resuming talks on the pact.
South Korea has hurriedly pushed the accord as part of efforts to find a breakthrough by regaining support from conservative voters sensitive to security issues.
Seoul and Tokyo held the first working-level dialogue earlier this month and initialed the pact a week ago. The pact was approved here at vice ministers' meeting three days later.
South Korea's three main opposition parties have opposed the hurried, unilateral push, saying they will propose the impeachment of the defense minister if it is signed.
Public objections are strong. According to a Gallup Korea poll released on Friday, 59 percent opposed the deal with Japan unrepentant of its brutalities during World War II. The Korean Peninsula was colonized by the Imperial Japan from 1910 to 1945.