Key part of Pakistan economic corridor opens up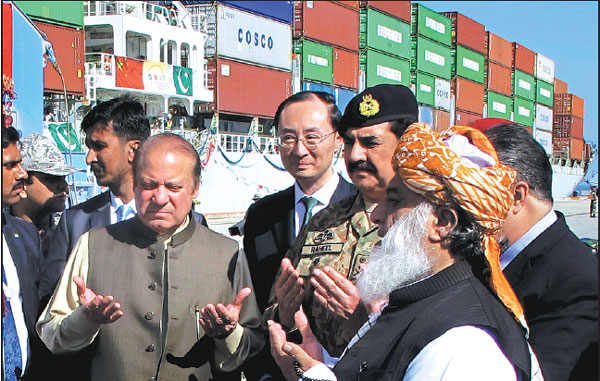 Pakistan's Prime Minister Nawaz Sharif (left, front) prays at a ceremony for the new trade route at the port of Gwadar on Sunday. Chinese Ambassador to Pakistan Sun Weidong (fourth from right) called the route a win-win solution.Muhammad Yousuf / AP
The deepwater port that is a key to the China-Pakistan Economic Corridor has received its first large shipment of Chinese goods, validating the trade link between western China and the Arabian Sea.
Pakistan's prime minister and its army chief joined Chinese Ambassador to Pakistan Sun Weidong on Sunday in welcoming the first bilateral joint trade convoy to reach the renovated port of Gwadar from China's Kashgar.
Sun said this is the first time such a trade convoy has passed through western Pakistan from the north to the south. The port in Pakistan's southwestern province of Baluchistan is key to the CPEC, which also encompasses roads and energy projects.
"It proves the connectivity of local roads, and realization of the concept of 'one corridor with multiple passages'," Sun said.
Pakistani Prime Minister Nawaz Sharif praised the corridor at a ceremony on Sunday. "Pakistan is located at the intersection of three engines of growth in Asia - South Asia, China and Central Asia. CPEC will help in integrating these regions into an economic zone offering great opportunities for people of the region as well as investors from all over the world," he said.
Army chief General Raheel Sharif also was at the ceremony at the port, which is expected to see heavy imports of building materials in the next year before becoming a gateway for goods from China's Xinjiang Uygur autonomous region.
Sun added that the trade convoy is the best reflection of the spirits of mutual consultation, joint construction, mutual benefits and win-win cooperation, and these will serve as the solid basis for future construction of the CPEC.
Sun said that the CPEC is open for business, with remarkable progress as 16 initial projects are under construction providing tens of thousands of new local jobs.