US-led coalition says Mosul battle ahead of schedule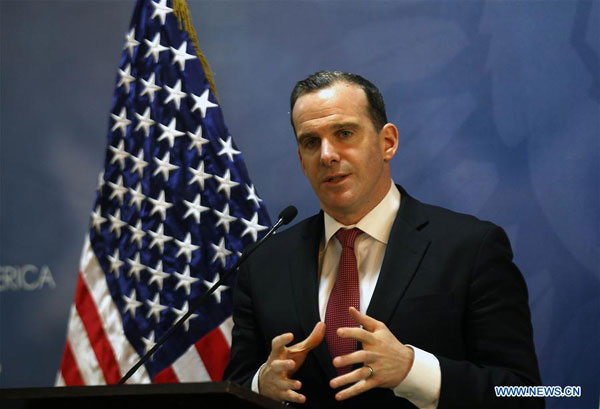 Brett McGurk, US Special Presidential Envoy for the Global Coalition to Counter IS, addresses a press conference at the US embassy in Amman, Jordan, on Nov. 6, 2016. [Photo/Xinhua]
AMMAN -- The military operation against the Islamic State (IS) group in Iraq's Mosul is ahead of schedule, said US Special Presidential Envoy for the Global Coalition to Counter IS here Sunday.
The envoy, Brett McGurk, told a press conference that it is the third week of the operation and "everything is ahead of schedule."
Iraqi security forces, along with Shiite and Kurdish militia with the support of the US-led coalition started an offensive on Mosul in October to retake the city, which fell to IS group in 2014.
McGurk said the coalition is also providing support to the Syrian Democratic Forces in an operation to retake Syria's Raqqa from IS, stressing that there is no coordination with the Syrian regime or the Russians regarding the operation.
He stressed during the press conference at the US embassy in Amman that days of Abu Bakr al-Baghdadi, the IS leader, are numbered, saying that it is only a matter of time to eliminate him and his movement.
The US official said the coalition will also make sure that IS does not move to the south of Syria to represent a threat to the neighboring Jordan.
Earlier in the day, King Abdullah II of Jordan met with McGurk to discuss cooperation and progress in the fight against terrorism.