China, South Africa sign memo on fruit trade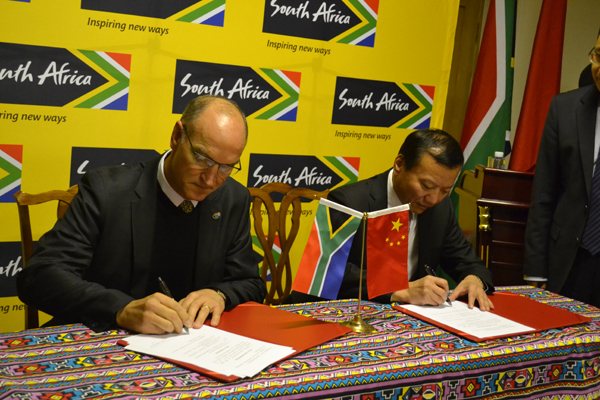 Willem Bestbier (L) and Wang Junbing sign the Memorandum. Photo by Liu Jian for China Daily
China and South Africa signed a memorandum of Understanding on Oct 31 to broaden the fruit trade between the two nations.
In the memorandum, China Entry-Exit Inspection Authority and Quarantine Association (CIQA) and FruitSA have agreed to exchange information on quarantine and inspection, regulatory matters, market access, market improvement and development, technologies and other issues related to the fruit industry.
It will also help to create a favorable environment to promote the development of horticultural trade between the China and South Africa in the future, and to establish an effective cooperative mechanism between CIQA and FruitSA.
"The fruit industry in South Africa may have gone in the wrong direction for some time due to the lack of authoritative information from the Chinese government and market," says Wang Xin, CIQA vice chairperson.
It normally takes about 20 days to ship fruits from South Africa to China. With such a long distance and with the language barrier, insufficient information made it difficult for South African fruits farmers to understand the Chinese market.
"The Memorandum allows CIQA to act as the bridge linking the Chinese government and fruit industry associations in South Africa," Wang said. "We will try to make sure they can acquire authoritative information from both the government side and the local market side in time, so they can avoid the wrong approaches."
For the 2015 - 2016 season, South Africa was the world's second largest exporter of citrus, commanding a 28% export share, with the European Union and the United Kingdom being the biggest consumers. Together, Hong Kong and the Chinese mainland imported 39% of all South African citrus fruit exported to Asia.
However, the memorandum only "indicates a new start," said Willem Bestbier, the Chairperson of FruitSA, a non-profit organization focusing on addressing common issues related to all aspects of the fruit industry of South Africa.
"We need to make it possible to implement and think about how to promote cooperation in the future," Bestbier said.