Chinese firm lights pupils' education in Kenya
China Telecommunications Corporation's (China Telecom) Kenya subsidiary put a smile on the faces of pupils from a remote Kenyan school today, through a donation of text books and sanitary towels valued at Ksh200,000 ($2,000).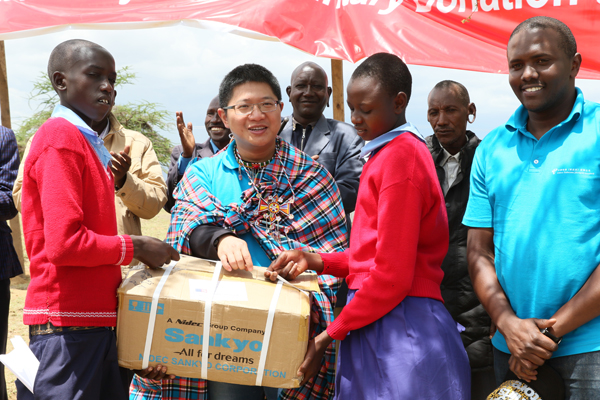 Olgumi Adventist primary school head boy and head girl receiving the donation from China Telecom (Kenya) Limited Director, Lambert Guo. [Photo by Liu Hongjie/chinadaily.com.cn]
The donation opened a new chapter in the lives of Olgumi Adventist primary school students, situated in Kajiado North, in the southern part of Kenya.
According to the school's head teacher Jeremiah Machaka, the donation will go a long way in enabling pupils to complete their syllabus on time, as well as do homework effectively.
"Previously, five pupils shared one textbook hence it was difficult for teachers to give them assignments to work at home. We are therefore grateful to China Telecom (Kenya) Limited (CTK) because almost every pupil will now access a textbook and if they have to share, it will be one textbook to two pupils. We also expect improved performance," he said.
CTK director Lambert Guo said they chose the school, located almost 70 kilometers from Nairobi, to motivate the children to learn. The children hail from a Maasai tribe, the most authentic ethnic tribe in the country, which leads a semi-nomad life.
As part of their culture, girls are seen as a source of wealth and are married off young, as opposed to being sent to school, because early marriage brings quick returns. Boys, on the other hand, stay out of school to herd cattle. Guo says the desire to discourage such a practice is one of the reasons they target the school.
He says by having a variety of books to read including story books and books about Chinese culture, the minds of pupils will be opened up to yearn to study hard and get opportunities to visit foreign countries like China. This way, they will not think of early marriages.