Two opposing draft resolutions fail to pass UN Security Council on Syria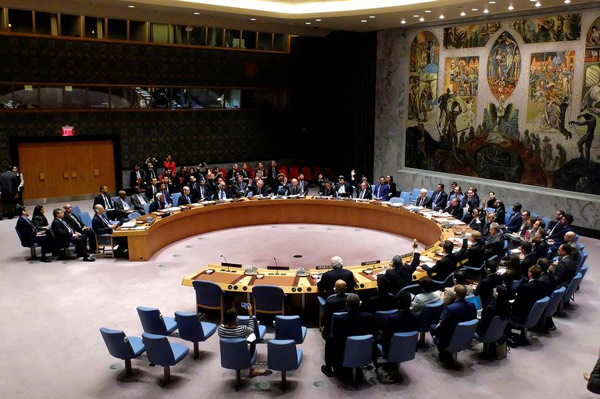 Members of the United Nations Security Council vote on a draft resolution that demands an immediate end to air strikes and military flights over Syria's Aleppo city, at the UN Headquarters in New York, US, October 8, 2016. [Photo/Agencies]
"China has been concerned with the recent escalation of the situation in Syria," said Liu Jieyi, the Chinese permanent representative to the United Nations. "We feel deeply the sufferings caused by the war to the people in Syria. China strongly condemns all terrorist activities that harm and kill innocent lives."
China abstained from the Franco-Spanish draft and voted for the Russian version.
While his nation approved of many items in the France/Spain draft, "some of the content in the draft resolution does not reflect full respect for the sovereignty, unification and territorial integrity of Syria" and "constructive views of some council members have not been incorporated, so China has to abstain in the vote."
"As the Russian draft called on all the parties to cease hostilities and open humanitarian access to enhance efforts to combat terrorism, to support the good office of (Special Envoy Staffan) de Mistura and called for an early resumption of peace talks in Geneva," Liu said.
"The draft resolution reflected the four-track idea -- ceasefire, humanitarian assistance, joint efforts to combat terrorism and political negotiations," he said. "It also reflected the full respect for the sovereignty, independence, unification and territorial integrity of Syria, with content that is comprehensive and balanced."
"China hopes that the Security Council will really take the safety of the Syrian people as the first priority and stay united and build up consensus and to continue the efforts to push for a political solution of the question of Syria to jointly work to prevent the expansion and spread of terrorism and play a constructive role in maintaining peace and stability in Syria and the region," Liu said.
Ambassador Bashar Ja'afari of Syria spoke after all other speakers, and at a greater length than of any, in support of the Russian resolution, it's ally in the aerial bombardment of eastern Aleppo to flush out anti-government forces.
Noting that several western diplomats had left the chamber he said they departed "when they heard words of truth spoken," Ja'afari said. "It proves they have malicious, colonial intentions against my country and the people of Syria and that their diplomacy is a diplomacy of chaos, coercion and use of force and not a diplomacy of dialogue and resolving conflict by peaceful means."