Two opposing draft resolutions fail to pass UN Security Council on Syria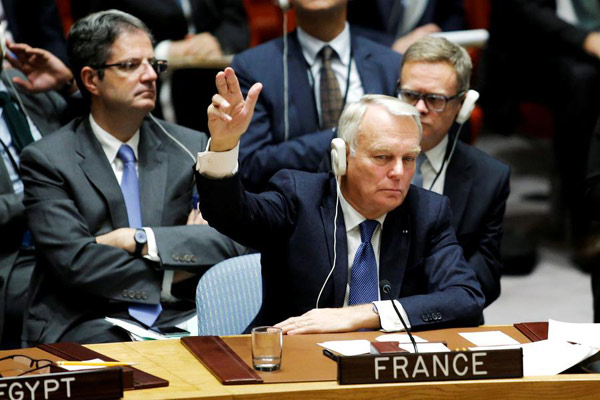 France's Foreign Minister Jean-Marc Ayrault votes in favor of a draft resolution that demands an immediate end to air strikes and military flights over Syria's Aleppo city, during a meeting of Members of Security Council at the UN Headquarters in New York, US, October 8, 2016. [Photo/Agencies]
UNITED NATIONS - Two opposing draft resolutions: a French-Spanish version and the other by Russia, on Saturday failed to be approved by the UN Security Council in response to the current situation in Syria.
The first one, drafted by France and Spain, was vetoed by Russia, a permanent council member, while the Moscow-sponsored draft failed to gain nine votes in favor, the minimum of supporting votes required for a draft to be adopted by the 15-nation UN council, instead gaining nine votes against.
The back-to-back votes took place during an unusual Saturday emergency meeting of the UN Security Council.
The French draft presented to members a few days ago called for efforts to ground Russian and Syrian military planes over the northern Syrian city of Aleppo.
The Russian draft offered Friday evening included many elements of the first draft, added support to references of a Sept 9 Russia-US accord and prioritized separation of armed opposition groups from the Al Nusra terrorist group but excluded the no-fly zone proposal.
Ambassador Vitaly Churkin of Russia, this month's president of the Security Council, speaking in his national capacity after it was defeated, said, "We were not expecting it to be adopted. It was just a political demonstration, if you like."
"While it wasn't implement -- while we think it could have been -- I'd like to reassure you that very complicated multilateral and bilateral work is ongoing and we do continue to hope that the situation in Syria will go back to normal and this would have a most beneficial affect on the situation in eastern Aleppo and we hope that happens as quickly as possible," he said.
It was another testy session of the council, normally a model of decorum.
"Normally I begin my statements in this Council with the words 'Thank you, Mr. President.' I cannot do that today," said British Ambassador Matthew Rycroft, opening his remarks after the first resolution failed to be adopted.
"Because today, we have seen the fifth veto in five years on Syria from you, Mr. President, a veto that has once again stopped this Council from creating the unity needed to give the people of Syria any hope for respite from their suffering, a veto that has once again denigrated the credibility and respect of the Security Council in the eyes of the world," " Rycroft said.
"A veto that is a cynical abuse of the privileges and responsibilities of permanent membership, and I simply cannot thank you for that," the London envoy said.