China committed to protection of endangered species: official
JOHANNESBURG -- China is very much committed to fulfilling all its obligations to the Convention on International Trade in Endangered Species of Wild Fauna and Flora (CITES), said Liu Dongsheng, Head of the Chinese delegation to the CITES 17th Conference of Parties, on Monday.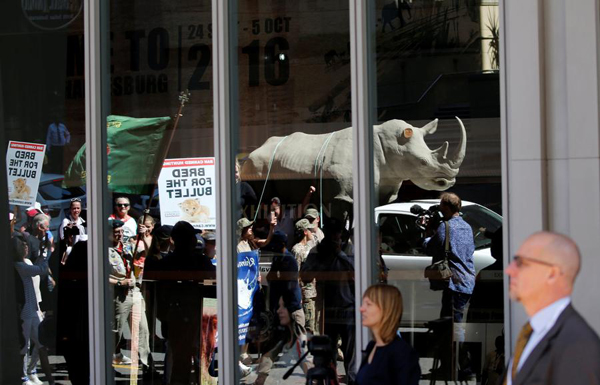 A delegate looks on as animal rights activists are reflected in a window as they demonstrate outside the Sandton convention center, a venue hosting the 17th meeting of the UN's Convention on International Trade in Endangered Species (CITES) in Johannesburg, South Africa, September 24, 2016.  [Photo/Agencies]
The official was delivering a keynote address at the opening ceremony of an exhibition hosted by the Chinese delegation on the sidelines of the conference, taking place in Johannesburg.
He said, "As the largest developing country, China has been committed to performing its obligations to CITES, improving domestic legislation, enforcing laws, combating animal trafficking crimes, raising awareness, strengthening capacity building and international cooperation."
According to Liu, China has been improving its legal system, including laws on wildlife development systems, fauna and flora protection, as well as laws on import and export of endangered species.
"Resources protection is the priority. Management and utilization of wildlife is also regulated while monitoring is strengthened," he said.
"China continues to carry out key wildlife development programs including development of nature reserves and natural forest resources conservation," said the official.
He noted that China's commitment and seriousness in protecting endangered species has started bearing fruits.
"The wildlife habitat environment conservation has improved significantly. The population decline of endangered species has been reversed," Liu said.
He emphasized that China has taken a zero tolerance to environment-related crimes.
"China has banned use of rhino horn, tiger bones and suspended ivory imports.
"It has organized targeted law enforcement actions and this has dealt a heavy blow to illegal and criminal activities, including poaching, transporting and trafficking of wildlife," the official said.
The Chinese government has also embarked on public awareness programs.
"We emphasize on increasing public awareness and hold serious memorial activities when celebrating the World Wildlife Day.
"These activities are held in import and export ports. Mobile phones warning messages are also sent out to increase public awareness on conservation," he added.
Other measures include the use of internet delivery and tourism companies to announce initiatives and build self discipline in resisting illegal wildlife trade.
Poor countries have also received financial assistance from China to attend COP meetings, according to the official.