South Africa pledges efforts to implement sustainable development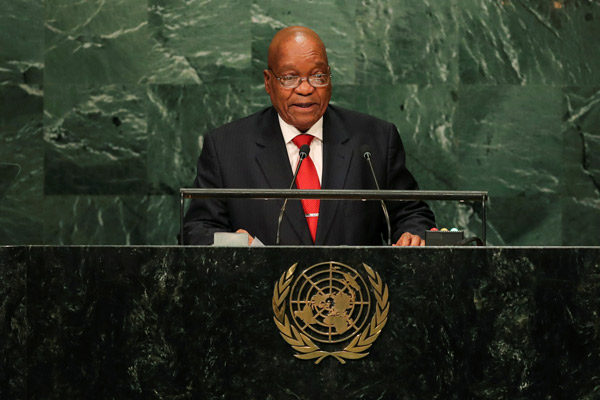 South African President Jacob Zuma addresses the United Nations General Assembly in the Manhattan borough of New York, US, Sept 20, 2016. [Photo/Agencies]
NEW YORK - South Africa has committed itself to the implementation of the Sustainable Development Goals, South African President Jacob Zuma said at the high-level debate of UN General Assembly Tuesday.
"We committed ourselves to an ambitious and transformative global development program that seeks to address the triple challenge of this century, which is poverty, unemployment and inequality," Zuma said.
African has made significant strides in the past couple of decades in reversing the impact of underdevelopment, he added.
Meanwhile, Zuma said industrialization is the key to Africa's development and prosperity, adding that Africa's industrialization will contribute to the eradication of poverty, reducing inequality and unemployment, and will also contribute positively to global growth and global prosperity.
He said the availability of resources would be crucial to the successful implementation of such development plans.
Over 140 world leaders gather in New York to attend this year's general debate, which lasts till Sept 26. This year's theme for the General Assembly is "The Sustainable Development Goals (SDGs): A Universal Push to Transform our World."