Chinese-African Youth Exchange Program kicks off in Kenya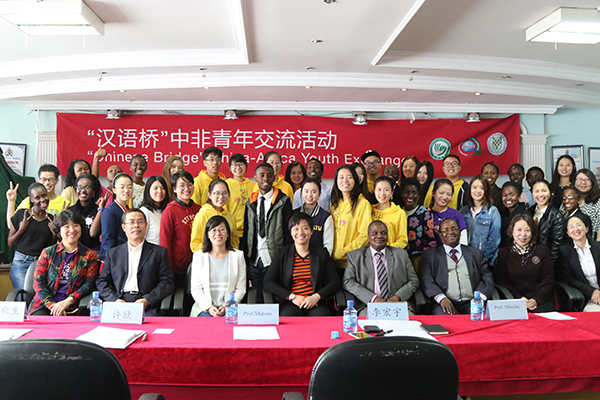 Participants of the ceremony take a photo. [Photo by Liu Hongjie/chinadaily.com.cn]
"Learning Chinese makes us understand Chinese culture better, introduces more Chinese friends and brings more job opportunities to us," said student Tabitha from the Confucius Institute at Nairobi University at the opening ceremony of the "Chinese Bridge" Chinese-African Youth Exchange Program on August 10, 2016.
About 50 college and university students and their teachers from China and Kenya attended the ceremony held in Nairobi University.
Addressing the ceremony, Li Hongyu, deputy director of Asian and African Affairs office of the Confucius Institute Headquarters, said she hoped youth representatives from both countries can learn from each us, achieve progress hand in hand, grow to be envoys of Sino-African culture exchanges and bridges between China and Africa.
Professor Njeru, principal of College of Humanities and Social Sciences at Nairobi University, said that in addition to successfully fulfilling the task of teaching Chinese, the Confucius Institute has also held many activities to promote youth exchanges between China and Kenya, enhance their friendship and thus contribute a lot to the cooperation and development between China and Kenya and even the whole Africa at large.
Professor Mbeche, deputy Vice-Chancellor of the university, expressed his gratitude to the support from Chinese government and the Confucius Institute Headquarters in Beijing, adding that after more than a decade's joint efforts, Kenyans are not unfamiliar with China and can appreciate Chinese culture. He is also the local director of the Confucius Institute at Nairobi University.
Organized by Beijing Language and Culture University and the Confucius institute, the youth exchange program was sponsored by the Confucius Institute Headquarters and the Chinese Follow-up Committee of Forum on China-Africa Cooperation. In the next three days, participants of the program will tour the Kenyan Ministry of Education, visit Kenyan traditional craft workshops, and attend wildlife conservation practices among other activities.