Economic revival hot topic at UN convention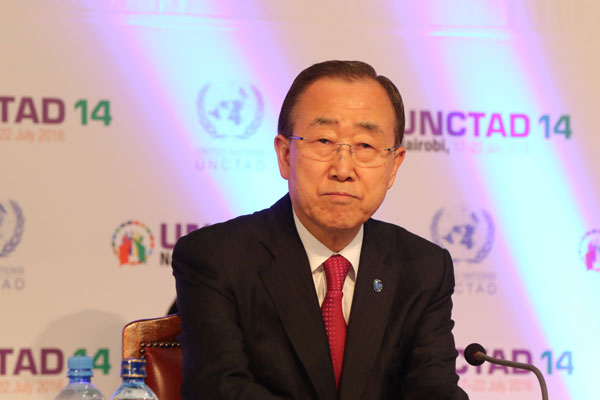 UN Secretary General Ban Ki-moon at the opening ceremony. [Photo by Liu Hongjie/chinadaily.com.cn] 
The 14th Session of the United Nations Conference on Trade and Development opened in Nairobi, Kenya on Sunday.
Addressing the opening ceremony, UN Secretary-General Ban Ki-moon urged participants to focus on strong collaboration, equality and inclusion in trade, finance and investment in order to better align action with agreed-upon sustainable development targets and help restore trust in the global economy.
The theme of the Conference is "From decision to action: moving toward an inclusive and equitable global economic environment for trade and development."
The Conference will feature ministerial debates, high-level round tables, thematic events, a World Investment Forum, a Global Commodities Forum, a Youth Forum and a Civil Society Forum, among other events.
UNCTAD 14 takes place as governments operationalize the 17 Sustainable Development Goals under the 2030 Agenda for Sustainable Development adopted by world leaders at the United Nations summit for the adoption of the post-2015 development agenda in September 2015, and in the wake of the Paris climate change deal.
In his speech at the opening ceremony, Kenya President Kenyatta has also asked for a solution to high commodity prices which he says are a burden to developing countries.