Chinese peacekeepers contribute to Mali's peace, development, says former PM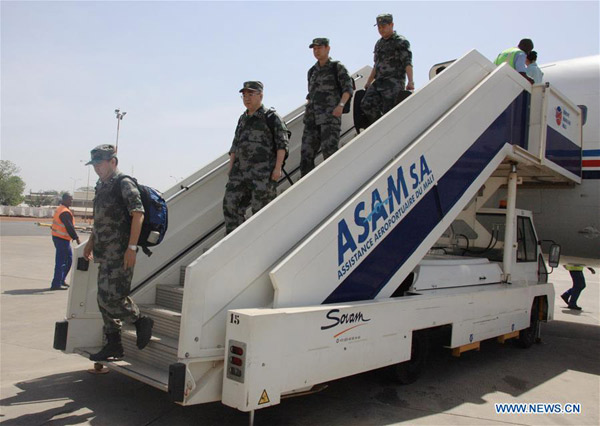 Members of the Chinese military team arrive at the airport in Bamako, Mali, June 3, 2016. A specialist medical team sent by Chinese military arrived in Mali on June 3 to join Chinese peacekeepers there and help deal with casualties from a Tuesday terrorist attack. [Photo/Xinhua]
BAMAKO -- Mali's former prime minister Moussa Mara said Chinese peacekeepers under the UN Multidimensional Integrated Stabilization Mission in Mali (MINUSMA) were more than bringing peace to the West African country.
"Chinese peacekeepers are not only a force of peace, they are also a force of development. They understand that maintaining peace not only means weaponry and sending soldiers, but also means improving the livelihoods of locals, winning their hearts," Mara said in an exclusive interview with Xinhua on Saturday.
"China not only provides military and defense assistance to Mali, it extends help to the hearts of Malians," Mara said.
In his eyes, China is good friend of Mali and a country that helps Mali the most.
His remarks came after the MINUSMA camp in Gao, northern Mali came under a terrorist attack on Tuesday, which killed a Chinese peacekeeper and injured five others.
Mara said he deeply regretted the casualties suffered by the Chinese peacekeepers and offered his condolences to the Chinese contingent, wishing the injured speedy recovery.
"The terrorist attack did not target China. It targeted peace. The purpose of the terrorists was to depress those who help Mali and return the country to crisis," Mara said.
Mara also recalled his trip in May 2014 to Gao when he was prime minister and shared his impression of the Chinese peacekeepers.
According to him, what impressed him the most were the strict discipline of the Chinese peacekeepers, and their contributions in various areas such as logistics, engineering, sanitation and health services as well as urban construction in Mali.