UN report: Unclean environment leads to early deaths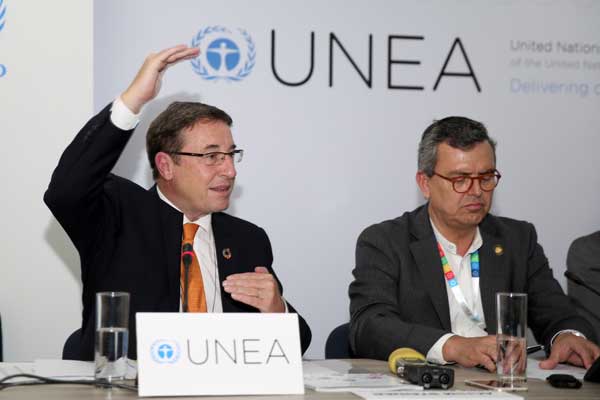 United Nations Environment Program Executive Director Achim Steiner speaks during the release of a report at UNEP headquarters in Nairobi on Monday. Photo by Hou Liqiang / China Daily
A UN report calls for more investment to improve the environment as it finds that environmental impacts cause the deaths of more than one quarter of all children under age 5, and the situation is getting worse with climate change.
The report, Healthy Environment, Healthy People, says environmental degradation and pollution are estimated to cause up to 234 times as many premature deaths as occur in conflicts annually, though the world has seen mortality rates in children under 5 drop from 214 per thousand live births in 1950-1955 to 59 in 2005-2010.
Among the premature death causes, diarrheal diseases are responsible for the death of almost 1,000 children every day due to poor sanitation, poor hygiene or unsafe drinking water, representing 20 percent of all deaths in children under 5.
"By depleting the ecological infrastructure of our planet and increasing our pollution footprint, we incur an ever-growing cost in terms of human health and well-being. From air pollution and chemical exposure to the mining of our natural resource base, we have compromised our life support systems," said United Nations Environment Program Executive Director Achim Steiner, at the release of a report at UNEP headquarters in Nairobi on Monday.
While an estimated 12.6 million deaths, 23 percent of the total was attributable to deteriorating environmental conditions in 2012. The report says the situation could be even worse with climate change, which is exacerbating the scale and intensity of environmentally related health risks.
Estimates from the World Health Organization indicate that 250,000 additional deaths could occur each year between 2030 and 2050, mostly from malnutrition, malaria, diarrhea and heat stress, as a result of climate change.
"A healthier planet is a rising tide that lifts all boats, including human health, but also economies and societies. By grounding development and progress in environmental health, we safeguard our own well being. At UNEA-2 (the second session of the United Nations Environment Assembly), the world is focusing on pathways to ensure that the environment sustains human health rather than threatening it," Steiner said.
houliqiang@chinadaily.com.cn