Xi, king of Morocco see deeper ties ahead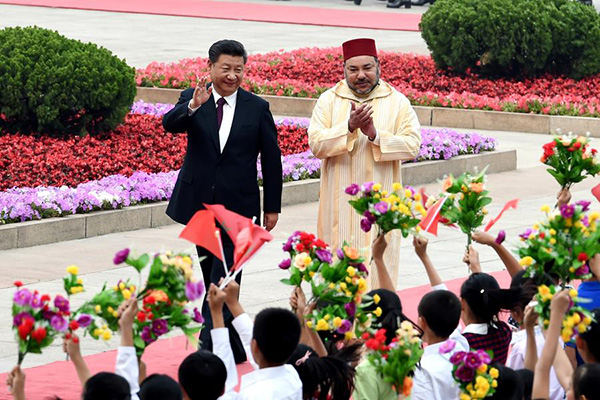 President Xi Jinping (L) holds a welcoming ceremony for King Mohammed VI of Morocco before their talks in Beijing, May 11, 2016. [Photo/Xinhua]
Two nations to enhance cooperation on infrastructure, energy and culture
China and Morocco launched a strategic partnership on Wednesday aimed at stepping up trade ties and capacity building.
President Xi Jinping and visiting Moroccan King Mohammed VI agreed the establishment of the strategic partnership will give new impetus to the ties, which have a long history of friendship.
After an hour's talk, the two heads of state also witnessed the signing of a dozen deals covering a wide range of areas, including infrastructure construction, energy and culture.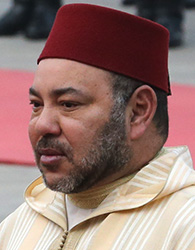 Moroccan King Mohammed VI
Xi said China will encourage Chinese enterprises to participate in Morocco's major infrastructure construction projects and will continue to deepen cooperation in fisheries, communications and clean energy.
The Moroccan monarch said that although there is a long distance between China and the North African nation, the two people have maintained close ties.
Morocco is ready to become China's important partner on the African continent and in the Arabic world, he added.
According to Vice-Foreign Minister Zhang Ming, the two countries also decided to streamline the procedures for certain types of visas and to facilitate tourism.
Under the agreement, Chinese with a passport for public affairs can stay in Morocco up to 60 days without a visa, Chinese tourists to Morocco will be offered a visa in five working days and businesspeople can apply for a one-year, multiple-entry visa, Zhang said.
"These measures will offer more convenience for officials, businesspeople and engineering technicians to go on business trips to Morocco or participate in projects," he said.
The three-day visit came just days after the Moroccan monarch gave a speech at the Gulf Cooperation Council summit, during which he said that Morocco was looking to diversify its economic and political relationships by seeking stronger partnerships with China and other major Asian countries.
He Wenping, a senior researcher of African studies at the Chinese Academy of Social Sciences, said, "Great potential could be tapped in two-way trade between China and Morocco, given the current small volume".
Bilateral trade volume between China and Morocco was $3.43 billion last year, according to the Foreign Ministry's website.
Contact the writers at qinjize@chinadaily.com.cn