Seven still on board of hijacked EgyptAir plane
CAIRO - Seven persons including three passengers are still on board the hijacked EgyptAir plane, Egyptian Civil Aviation Minister Sherif Fathy said on Tuesday.

EgyptAir had previously said that negotiations with the hijacker had resulted in "the release of all the passengers, except the crew and four foreigners."
"The captain, a co-pilot, an air hostess and a security guard remained on board, along with three passengers," Sherif Fathy said told a press conference.

Hijacker of EgyptAir passenger plane has asked for political asylum in Cyprus, state TV quoted source of Egyptian Aviation Ministry as saying.
The highjacker has been identified as Egyptian, the State TV said Tuesday.
All but seven people on board the aircraft, which was traveling from Alexandria to Cairo, have been released. The pilot had reported that the hijacker was strapped with explosives, but Egyptian authorities have not confirmed this.
The EgyptAir flight No. 181 had carried 56 passengers and 8 crew on board.
The plane was heading from Alexandria to Cairo when it was highjacked and diverted to Cyprus.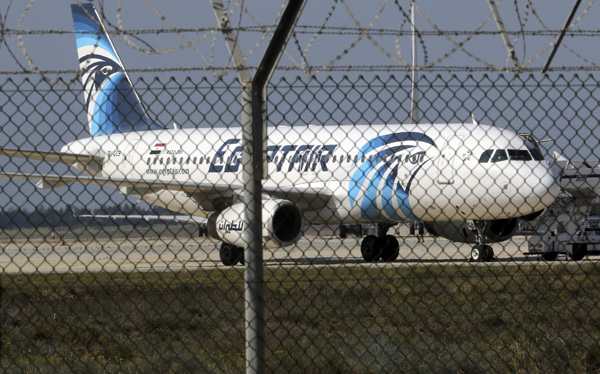 A hijacked Egypt Air A320 airbus stands on the runway at Larnaca Airport in Larnaca, Cyprus , March 29, 2016. [Photo/Agencies]
Citing security sources, Cypriot state media said that the motives of the hijacker appeared personal and he had asked to contact his ex-wife, who lives in Cyprus.
"It is not something which has to do with terrorism," Cypriot President Nicos Anastasiades told reporters.
Asked if a woman was involved he said "There is always a woman involved."
Security authorities said a crisis team has been set up. A team of the anti-terrorist special unit of the police has been deployed.
Larnaca airport has been closed and arriving planes are being redirected to Paphos in western Cyprus.
The hijacked aircraft landed at Larnaca airport earlier on Tuesday. Airport sources said Flight MS-81 was hijacked shortly after takeoff from Alexandria at 8 am.