What you need to know about Burkina Faso hotel attack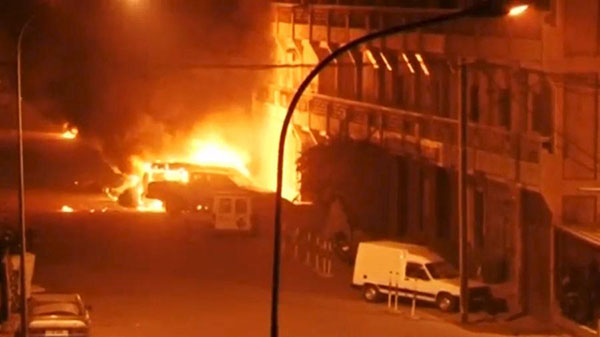 A view shows vehicles on fire outside Splendid Hotel in Ouagadougou, Burkina Faso in this still image taken from a video January 15, 2016, during a siege by Islamist gunmen. [Photo/Agencies]
BEIJING - At least 21 were killed and 15 others wounded after an Al-Qaida affiliate attacked the Splendid Hotel in Burkina Faso's capital, Ouagadougou, and took hostages there Friday.
It is the first time militants carried out an assault in the capital, and it comes as a setback to efforts by African governments, France and the United States to prevent attacks that have destabilized the region.
-- Who launched the attack?
Gunman from the group Al-Qaida in the Islamic Maghreb (AQIM) stormed the hotel that often hosts Westerners including UN staff and journalists, and took the hotel guests as hostages.
The group is an Algerian Islamist militant organization aiming to overthrow the Algerian government and institute an Islamic state. It has been designated a terrorist organization by the United States and the European Union.
The AQIM, which used the name The Salafist Group for Preaching and Combat (GSPC) before December 2006, pledged allegiance to Al-Qaida in September 2006. Since then, the group has enrolled a number of terrorists and became the backbone of Al-Qaida in northwest Africa.
It had participated with Al-Mourabitoun, an Al-Qaida linked group, in the Mali hotel attack on Nov. 20, 2015, taking more than 100 persons hostage, killing 20.
-- Why Burkina Faso?
The West African landlocked country has been experiencing unrest over the past few years. Its new president was just sworn in December 2015.
In October 2014, mass protests erupted in many places around the country after former President Blaise Compaore, in power since 1983, tried to extend his term through a constitutional amendment. Compaore was deposed by the revolt and a transitional government was later formed. The protests resulted in 20 deaths and hundreds of injuries.
In September 2015, Presidential Security Regiment (RSP) led by Gen. Gilbert Diendere arrested the transitional president, his prime minister and members of the cabinet and dissolved the government, before setting up the National Council for Democracy. The coup caused 11 fatalities and 271 injuries.
The country, like many of its neighbors in the Sahel region, has been faced with terrorist threats for several months.
In mid-December, France issued travel advisories for its citizens not to visit the eastern part of Burkina Faso because of terrorism concerns.
A convoy of vehicles carrying gold from northern Burkina Faso was attacked by unknown armed assailants on Nov. 27, two days before presidential elections.