Yearender: China reaches out to LatAm, Africa for new-era cooperation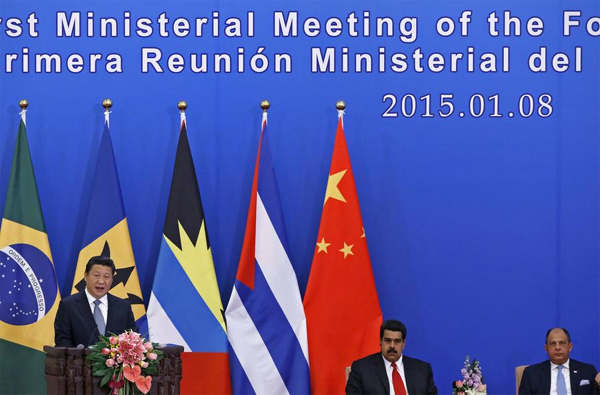 Venezuela's President Nicolas Maduro (C) and Costa Rica's President Luis Guillermo Solis listen to President Xi Jinping speak at the opening ceremony of the 1st Ministerial Meeting of China-CELAC Forum at the Great Hall of the People in Beijing Jan 8, 2015. [Photo/Agencies]
BEIJING - China's relations with Latin America and Africa ushered in a new era of win-win cooperation in 2015, which have become a paradigm for South-South cooperation and helped build a more multilateral world.
The upgrade of such relations is represented by two summits held respectively in the beginning and the end of this year.
On Jan 8-9, the first ministerial meeting of the forum of China and the Community of Latin American and Caribbean States (CELAC) was held in Beijing, marking the start of a new era that features all-round cooperation between the two sides.
On Dec 4-5, the second summit of the Forum on China-Africa Cooperation (FOCAC) was held in Johannesburg, South Africa, sending a strong message to the entire world that China and Africa are further striving for win-win cooperation and common development.
China-Latin America cooperation
The first China-CELAC forum ministerial meeting has shown that the comprehensive cooperation between China and Latin America has come true and the China-Latin America relations have entered a new phase that features the common development and mutual promotion of bilateral and all-round cooperation, Yin Hengmin, special representative of the Chinese government on Latin American affairs, said at a seminar held in November in Shanghai.
"The China-CELAC forum has yielded delightful early results, which has laid a solid basis for the long-term development of the all-round cooperation between China and Latin America," Yin said.
At the first China-CELAC forum ministerial meeting, China and CELAC agreed on three major documents -- a five-year cooperation plan, the Beijing Declaration and the Regulations on China-CELAC forum.
The plan (2015-2019) contains specific measures for overall cooperation between China and Latin America, covering politics, security, trade, investment, finance, infrastructure, energy, resources, industry, agriculture, science and people-to-people exchanges.
Among them, on the political front, China will invite 1,000 political party leaders from CELAC members to visit China.
Both sides will strive to achieve a trade volume of 500 billion US dollars and investment of at least 250 billion dollars within a decade.