Highlights:
1. Three Chinese citizens killed, four others rescued
2. Three Chinese killed were executives from China Railway Construction Corporation Limited
3. Islamist group claims shared responsibility
4. Malian government declares nationwide state of emergency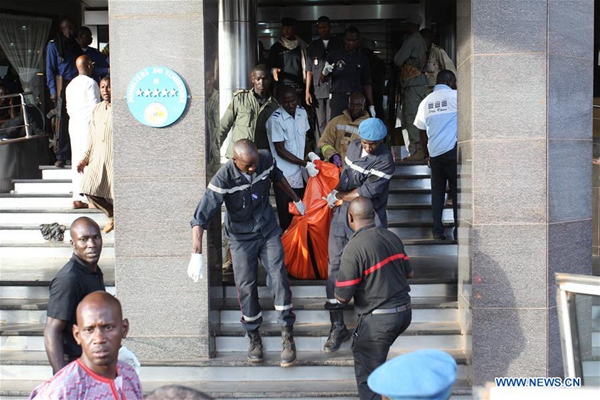 Rescue team members carry out a body of a victim from the Radisson Blu hotel in Bamako, Mali, Nov 20, 2015. [Photo/Xinhua]
BAMAKO - Three Chinese citizens were killed in a hostage-taking situation at a hotel in Mali's capital Bamako, the Chinese Embassy confirmed to Xinhua on Friday.
Four other Chinese citizens were rescued from Radisson Blu hotel in Bamako, said embassy officials.
According to Wang Yi, political counselor of the Chinese embassy in Mali, the rescued Chinese are in stable condition.
Following the embassy confirmation, China Railway Construction Corporation Limited confirmed Saturday in an online statement that three executives of the company were killed.
In the statement posted on its official website, the company expressed deep sorrow and sent heartfelt condolences to the families of the casualties and strongly condemned the terrorists' brutality.
The three Chinese citizens killed were China Railway International Group (CRIG) executives on a business trip to negotiate cooperative deal with Mali's ministry of transportation. Their names and job titles are: Zhou Tianxiang, general manager of CRIG - Wang Xuanshang, deputy general manager of CRIG - Chang Xuehui, general manager of the Western Africa's subsidiary of CRIG.
China Railway International Group (CRIG) is a subsidiary of China Railway Construction Corporation Limited.
Meanwhile, an Islamist group claimed responsibility for the attack. Al Mourabitoun, an Islamist militant group, claimed it was jointly responsible for the attack, CNN quoted Mauritanian news agency Al Akhbar as saying. The group announced it carried out the attack with al Qaeda in the Islamic Maghreb (AQIM), CNN said.
The group was also responsible for a shooting attack on a restaurant popular with foreigners in Bamako on March 7 this year, which killed five people and wounded nine others.
The Malian government declared a 10-day nationwide state of emergency Friday evening after jihadists attacked a top hotel in Mali's capital Bamako and took 170 people hostage for around nine hours.
At least 27 people were killed on Friday after Malian forces staged a rescue mission to free hostages held by gunmen at the luxury hotel in Bamako.
There were no more hostages held at Radisson Blu hotel, said security minister Salif Traore, hours after gunmen stormed the hotel and held 170 people hostage, many of them foreigners.
But security sources said Malian forces were in the process of securing the hotel as gunmen were still holding out inside the seven-storey building.
Security sources said two attackers had been killed, but it remained unknown if the attackers were among the 22.
The rescue operation by Malian special forces received support from MINUSMA, the UN peacekeeping mission in Mali, U.S. and French troops.
The gunmen entered the hotel, which houses 190 rooms and sheltered 140 people of different nationalities, on a car with diplomatic plate, said Traore.
Some hostages succeeded in escaping by their own means while the majority of them were rescued by the special forces.