Somali FM mourns Chinese security officer killed in hotel blast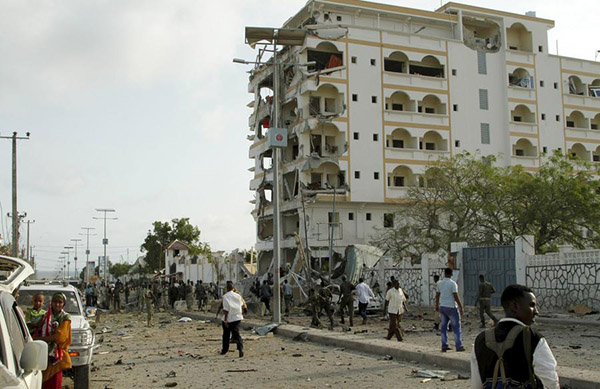 Somali government soldiers stand near the ruins of the Jazeera hotel after an attack in Somalia's capital Mogadishu, July 26, 2015. [Photo/Agencies]
MOGADISHU - Somali Foreign Minister Abdusalam Omer on Tuesday issued a statement to mourn Zhang Nan, a security officer for the Chinese Embassy in Somalia who was killed in a bomb attack on July 26.
"Last Saturday afternoon, the body of Zhang Nan, who was killed in the terror attack on Jazeera Hotel in the Somali capital Mogadishu where the Chinese embassy was based, was returned home to rest. For us all in Somalia, we followed (that) with great sadness," the statement said.
Zhang had served in the Chinese army for 11 years and worked as a security officer in the Chinese embassy to Somalia since February.
The honourable and courageous Zhang Nan who lost his life while serving in Somalia will not be forgotten by the government and people of Somalia, the statement said.
Omer said China has always played an important role in Somalia' s development after independence.
"The government of Somalia, with its partners including the government of China, have been working together to rebuild a nation once labelled the worst failed state in the world," he said.
He also expressed optimism towards the fight against insurgents,
namely the militants of Al-Shabaab that was behind the car bomb attack that killed Zhang and a dozen others.
"While it is true that we are still fighting the last pockets of terrorism, the fact is that we are winning... Normality is now returning to the country, as the state building process is taking shape," he said.