Factory finds greener way to dry tea and save 60,000 trees a year
The first thing that strikes you as you enter the Makomboki Tea Factory is the air. It's clear, absent of the dark smoke that billows from the boilers of Kenya's other tea factories.
Of the 66 tea factories under the management of the Kenya Tea Development Authority, Makomboki is the only one that doesn't use firewood in the processing of its tea.
Instead, the factory has switched to a greener, cheaper fuel: briquettes made of biomass byproducts that would otherwise be treated as waste.
Deep in central Kenya's hilly and fertile tea-growing Muranga county, Makomboki employees feed the factory's boilers with briquettes of macadamia, cashew and rice husks mixed with sawdust.
"We have not used a single cubic meter of firewood in the last six months, and we are excited about that," said factory manager John Gitau.
In 2010, the International Trade Centre started a training project aimed at teaching Kenya's tea producers climate change mitigation techniques.
Inspired by what they learned, Makomboki's board of directors decided to shift their fuel source from firewood to briquettes. Since then, the factory has scaled up its use of alternative fuels and weaned itself of its dependence on firewood.
Makomboki makes its briquettes using machines donated by the UK-based charity Living Earth Foundation. That came about after one of Makomboki's major clients, British tea and coffee company Taylors of Harrogate, reached out to the nongovernmental organization to see if it could help with the factory's mission to ditch firewood.
The husks for the briquettes come from other factories within Muranga and Kiambu counties and the sawdust from mills near Makomboki.
"Saw millers actually have a problem finding ways to dispose of their sawdust," said Gitau. "We are helping them get rid of their waste."
According to Gitau, in the six months that it takes the factory to produce around 2.5 million kilograms (5.5 million pounds) of tea, their boilers used to consume up to 10,000 cubic meters of wood - the equivalent of 30,000 trees.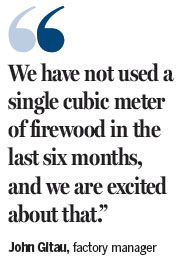 By swapping firewood for sawdust and briquettes, he said, Makomboki alone will have saved 60,000 trees in the course of a year.
"If the same practice is replicated by all the factories in Kenya, we will have saved a lot of trees and contributed to a better environment," said Gitau.
Mary Njenga, a postdoctoral fellow of bioenergy at the World Agroforestry Center, hails the use of sawdust in the making of fuel briquettes.
As long as the sawdust is a byproduct of a sustainable timber system, in which new trees are planted to replace those that are felled, burning sawdust in a factory is preferable to saw millers setting piles of it alight in the open.
"Many timber producing areas burn sawdust (to get rid of it) but tea factories will be able to turn the sawdust into a resource," she said.
According to Njenga, burning sawdust in a boiler releases fewer carbon emissions than if it were burned in a field.
"The temperatures inside the boilers of tea factories are so high, they are able to more fully burn the particulate matter and the carbon dioxide so that little is released," she said.
(China Daily 08/04/2015 page10)