Somali official says friendship between two countries intact
The recent al-Shabaab terrorist attack in Somalia that killed a member of the Chinese embassy's security staff and seriously damaged embassy facilities will not affect the friendly relationship between China and Somalia, and the Somali government will offer all necessary support to help relocate the embassy to a safe place, Somalia's foreign minister said on Thursday.
Abdusalam H. Omer, minister of Foreign Affairs & Investment Promotion of Somalia, also said Somalia has made great strides in fighting al-Shabaab, which claimed to be responsible for the attack.
The country is expecting more cooperation from the international community, including China, in its flight against the al-Qaida-linked militant group and in stabilizing towns and villages that have been liberated, Omer said.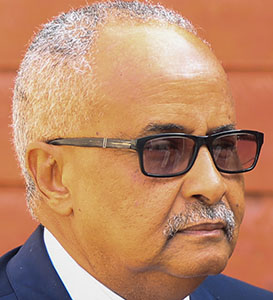 Abdusalam H. Omer, minister of foreign affairs and investment promotion in Somalia, said his country has made great strides in fighting alShabaab.
He made the comments after an attacker drove a car rigged with bombs next to the Jazeera Palace Hotel, where the Chinese embassy is based, setting off an explosion at about 4 pm local time on July 26 in Mogadishu.
The blast killed 15 people, including a member of the Chinese embassy's security staff. Dozens of others were injured.
"I am very sad and sorry, as the Chinese man paid the highest price anyone can give - his life," Omer said, adding that the Somali government is working out plans to put the embassy in a secure place.
"We will propose to the Chinese government and ambassador specific places that the government knows are safe," he said.
"Also important is the grief of the Chinese people and government, and making sure that it doesn't happen again," he said. "The China-Somalia relationship has stood a test of time, and it will stand for another 100 years. I have no doubt about that in my mind.
"Most importantly, China is a power, it's an international power. For them to come and live with Somalis, that's a big support. We hope that will continue, and I hope we can find a suitable place for the embassy in the city," he said.
Praising China's support, Omer said he has signed an agreement with the Chinese ambassador calling for a Chinese team to visit to evaluate projects China completed in the last century, with a view toward upgrades.
One of the projects aided by China in Somalia is the 967-kilometer North-South highway from Mogadishu to Belet Huen, which was constructed in the 1970s.
Omer said Somalia has been "militarily defeating al-Shabaab".
"The attack in Jazeera was a terrible attack to show that they are still around," he said. "But they are on the run, and they are losing ground. Somalia has turned the corner and we will not go back. We will fight, and we will win."
Saying that the attacker was alleged to be a Somali-German, Omer said data show that 80 percent of terrorist attackers in Somalia came from outside the country.
"If they can come back from Germany, or wherever they live, and come back to blow things up, the world should take a note that they can do it in the other country, too. That's why it's an international issue and regional issue. It's no longer just a Somalia issue," he said.
Omer said the challenge for Somalia and the international community is "how to stabilize the communities" that have been liberated from the control of al-Shabaab.
"After you defeat al-Shabaab, after you kick them out, how do you establish a basic government, open schools, markets, hospitals and create jobs? The stabilization is the most difficult part," he said.
"It's on this point that we need to have international support. More than that, the world needs to come together to fight extremism and terrorism."
houliqiang@chinadaily.com.cn